Australia
Editors Review
There are 3 vehicle types available for RVGO - the Avida Birdsville 4-berth, Jayco Conquest 4 berth and the 6-berth Winnebago Burleigh.
Each motorhome is well-equipped with all the comforts of home, from kitchen facilities to sleeping essentials.
The owners supply almost everything under the sun, and all you have to do is turn on the engine and enjoy the road trip.
Most vehicles have anchor points to strap in the kiddies car seat, with the 6 berth having 2 of them and lets face it if you have 2 kids the age that need car seats, getting the 6 berth size is the way to go anyway.
We like that all vehicles come with solar panels and awnings, with the Jayco 4 berth and the Winnebago 6 berth coming with the Webasto Diesel Heater too so you can keep warm whilst parked during winter travel.
Outside shower (as well as the inside one of course), camping chairs, camping table and mat also come standard across the whole range, meaning that when you put all this together, the need to stay in holiday RV parks is massively reduced. You can definitly spend more time in remote locations with these vehicles.
The 6 berth Winnebago is getting a bit old at the time of writing, being a 2015 model, but the others are quite a bit newer. Be sure to check if there has been an upgrade at all if you go to book the 6 berth.
There is only 1 depot for RVGO and it tends to keep standard business hours without weekends, but it is a small company and so with some pre-arrangement you should be able to do returns and collections on the weekend.
The location up in the northern beaches of Sydney sets this company apart from the others that are all more centrally located in Sydney. This could be a hindrance for those coming from interstate or internationally as it quite a trip to get there, but for the many people that live in the north half of the Sydney basin, this will be great when looking for a motorhome holiday.
Overall this this family run little company seems to be ticking all the boxes with the vehicles it is offering and will work well for those in the north of Sydney or for those who prefer to keep things small and personal.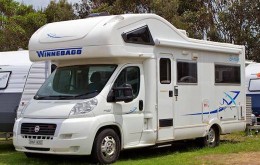 From the Agency
No word from this agency yet. Come back and see if they checked in soon.
Pros
Fully-equipped motorhomes
Affordable rates
Diesel heaters
Awnings and extras
Cons
Small fleet
Only one depot with limited hours
Location a long way from center of Sydney
See who else rents Campervans in the same cities
Instant Price Comparison
Just Got Questions? Want a Quote direct from the company?
Fill in this form to contact the Agency direct.
Write Your Own Review
Tell the world about your experience renting from this company
Have you experienced RVGO Rentals?
Be the first to leave them a review and help others on their journey.