Australia
Editors Review
Last Updated: 8/20/19
Advance Campervan Rentals is a family-owned and operated business located in Newcastle, Australia. The company offers you luxury motorhomes and compact campervans that are designed for families and groups from 2 to 6.
About Advance Campervan Rentals
Advance Campervans Rentals offers comfortable mobile holidays through their motorhomes and campervans. It is run by husband and wife team and they also offer specialised service to tourists visiting Australia. Through an easy quotation, customers can book in advance and assure them of real availability of vehicles. They guarantee that all their vehicles are personalized and well-conditioned for a much pleasurable trip. The company's ultimate goal is to provide the best service before and during the rental. They even provide free parking at the owner's place and free airport transport once the vehicle is returned, which makes it more convenient. And, they claim to be the only Newcastle-based campervan rental business.
The standard rates include unlimited kilometers, standard excess insurance cover, extensive travel information pack, NRMA roadside assistance, a full water tank, gas bottle, living equipment, cleaning fee, and such. However, the standard rates may vary depending on the season. Every May, June, and July, they match the rental of any competitor as long as you provide them with a proof of quote. However, on October and Christmas season, the rate is pricey. During these months, the special rates range from an additional of 14% up to 35%.
Fleet
There are 4 types of vehicles being offered by Advance Campervans Rental—Euro Deluxe Motorhome, Euro Camper, Adventurer, and Weekender. Every type has unique features specially customized by the company. The Euro Deluxe Motorhome is the most expensive vehicle to rent but offers the best accommodation with 6 berths. For the other vehicles, Euro Camper at 4 berths, Adventurer and Weekender both at 3 berths.
All vehicles of Advance Campervans Rental have apartment-style kitchen equipment. Though linens are not included in the rental, they can make some arrangements for interstate and international tourists. The rental of all vehicles can be matched up with additional equipment that must also be booked at the time of reservation. Camping table, chairs, beach umbrella, and child booster are the additions charged at $20 AUD each per rental.
Vehicles
Euro Deluxe Motorhome VW
The Euro Deluxe Motorhome is their priciest vehicle rental at roughly around $230 AUD per day on a normal rate. The vehicle is best for the large family since it could accommodate up to 6 people. Plus, it has all comforts of home such as two dining areas that convert into double beds, a compact kitchen, and a bathroom.
Euro Camper

The Euro Camper is a 4 berth camper that comes with two double beds―one from the cabover area and one from the convertible dinette. The shower and toilet are well-positioned at the rear, together with the cozy kitchen space. Also, there's a TV with CD/DVD player adjacent to the dinette bed, which means you can watch your favorite shows while enjoying your meal.
Adventurer
For the 3 berth campers, they have two options―the Adventurer and the Weekender. Though these two almost have the same interior facilities, the Adventurer is much more expensive than Weekender. Upon entry inside the camper, you will be greeted with the kitchen area with a side sink. The spacious lounge occupies the entire area as it converts into a double bed.
Weekender
On the other hand, the Weekender is another 3 berth option but much cheaper. So, if you're with a group up to 3 but on a tight budget, then the Weekender suits you well. The only main difference between this camper to the previous one is the style of the kitchen. Instead of a side sink, it features a side gas stove.
Insurance
A standard excess insurance cover is included in every rented vehicle. And though there is no upfront cost to cover the insurance, the company requires an imprint of your credit card. And if an accident happens, the standard excess is $2000 AUD.
Reputation
Advance Campervans Rental is actually a small company compared to Aussie Campervans Rental, Apollo Car Rentals, Jucy Car Rental and Camperavan Hire. And since it is a small family-owned business, some customers think that their vehicles are a bit old and may not be advisable for a very long drive. However, the company gives another quote for a new car. The bottom line is Advance Campervans Rental is a nice option if you are looking for more personalized and cheap campervan rental.
Summary
Advance Campervans Rental is a family-owned rental business, which is cheaper than other big campervan rental companies. They offer more personalized rentals, which included supplementary services that make them unique.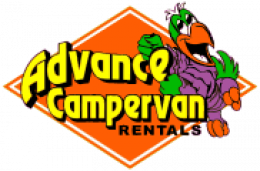 From the Agency
No word from this agency yet. Come back and see if they checked in soon.
Pros
Unlimited kilometres
Free airport transport upon vehicle return
Free parking at the owner's home
Cons
Not that popular
Some negative reviews
Cheap prices for older models and competitive rates for new ones
Expensive rates during October and Christmas season.
See who else rents Campervans in the same cities
Instant Price Comparison
Just Got Questions? Want a Quote direct from the company?
Fill in this form to contact the Agency direct.
Write Your Own Review
Tell the world about your experience renting from this company
3 Review
"
location

"

J'ai loué et ramené le véhicule début Mars à Sydney et cela fait maintenant plus de 2 mois. La caution ne m'a jamais été remboursé et quand je demande, soit je n'ai pas de réponse ou alors on évoque le covid 19. Je pense que je vais être obligé de lancer une procédure judiciaire. L'entreprise n'est pas sérieure.

3

Service

2

Mechanical

3

Interior

1

Value
1 Review
"
Idiotic owner

"

DONT BOTHER TOO MANY THINGS TO NAME!

Cheap for a reason it would seem

AC won't work

1

Service

1

Mechanical

1

Interior

1

Value