Australia
Editors Review
Last Updated: 8/20/19
For a combination of luxury and fun, Derive Campervan Hire has what it takes to give you the best of both worlds. Located in Canning Vale, Perth, this small Australian owned and operated company rents out 4 berth Mercedes Benz campervans without shower and toilet.
About Derive Campervan Hire
Derive Campervan Hire is an Australian operated campervan rental with the main branch in Canning Vale. Born out of the owner's love for outdoors and elegance, the company fills in what is often missing in the campervan hire industry in the country―a luxury campervan rental perfect for outdoor adventures. Since the company is relatively small, you'll get not just a touch of luxury but also a hint of homey service. That homey service starts with airport pickup and drop-off at no additional cost.
Fleet
Derive Campervan Hire focuses on luxurious, easy-to-handle, and versatile campervans instead of full-sized motorhomes. With a limited fleet of uniquely designed Mercedes Benz models or the Marco Polo Activity units, this allows the company to be more hands-on with each rental, personally. These luxury campervans are all automatic transmission and are equipped with bedding, kitchenware, outdoor gears, and safety equipment. For those traveling with kids, a child seat may be required at your own cost. Though not pet-friendly and no bathroom, these units are the latest. Plus, these are well-maintained.
Vehicles
These Marco Polo Activity models are suitable for a family of 4―could be all adults or with children. All campervans are loaded with a compact kitchenette featuring a compact sink with running water, fridge/freezer, and a single cooking ring. Sleeping options come from the convertible 3-seater bench at the rear and double bed at the pop-up roof. The tinted rear windows are furnished with curtains for added privacy while travelling. The swiveling front seat allows an easy transition from driving to relaxing in the living area. Plus, there's a fitted side rollout awning for outdoor convenience and entertainment.
Insurance
Derive Campervan Hire requires a $1, 000 (AUD) security bond through credit card. For the insurance coverage and excess options, you may coordinate with the company upon rental inquiry.
Reputation
Derive Campervan hire may be smaller compared to other rental corporations in Perth, but they hold a good reputation because of their fleet and service. As a luxury-based Australian campervan hire, Derive rents out 4 berth campervans that are new and well-equipped with essentials, except for shower and toilet. So, this might be a slight disappointment for those fancy travellers looking a luxury apartment on wheels. Also, these aren't for off-road adventures because of its luxury features. Still, these campervans are great to drive, plus good on fuel. So, if you're eyeing for the higher end of the market, their luxury campers do not disappoint.
Summary
Renting a Marco Polo unit from Derive Campervan Hire entails a more comfortable ride less the convenience of a bathroom. These newer, luxury models are suitable for a family of four looking for just the right amount of sophistication.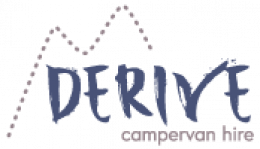 From the Agency
No word from this agency yet. Come back and see if they checked in soon.
Pros
Newer models
Luxury range
Personalized service
Cons
Limited fleet
Caters the high-end market
One branch
Campervans without shower and toilet
See who else rents Campervans in the same cities
Instant Price Comparison
Just Got Questions? Want a Quote direct from the company?
Fill in this form to contact the Agency direct.
Write Your Own Review
Tell the world about your experience renting from this company
Have you experienced Derive Campervan Hire?
Be the first to leave them a review and help others on their journey.