Australia
Editors Review
Driveabout Campers is a competitive campervan hire company with over 6 decades of automotive experience. Their target market are budget backpackers or those willing to go on a road trip without any fancy or frills.
What Driveabout Campers Tells Us
An extensive experience in the industry along with a charming price beat guarantee relatively give Driveabout Campers an advantage among other smaller campervan businesses. Though offering older models, the campervans are fully serviced and maintained at their own servicing shop. The company is associated with Barefoot Camper Hire, which seems to be a pretty nice campervan company that caters different budgets and groups. Just like their sister company, Driveabout also has multiple depots to give you choices for pick-up and drop-off. But since this is also a small business, it focuses on personalized service not with any fancy light shows.
Fleet
Driveabout Campers provides you with an affordable range of campervans that are quite old yet still reliable on open roads. There are manual vehicles that could go as old as 1998-2004 models. The latest campervans on fleet are mostly 2007-2008 Mitsubishi Express and 2006 Toyota Winnebago. A charm given to travellers aside from the competitive rates is the various selection of vehicles that ranges from 2-berth Standard Camper to 5-seater motorhome. And before we forget, all campervans come with unlimited kms, free airport pickup and return service at Gold coast, Brisbane, Sydney, Cairns and Melbourne provided your rental is over 5 days, and camping essentials like linens, towels, blankets and more. Another bonus is that they offer a free extra driver, in fact, they encourage it. This is a smart move as it reduces fatigue on the main driver. Many other companies like to sting you for an extra driver so it's nice that they are actually giving something for free.
Standard Camper
Standard Camper 2007/2008
Let's begin with the 2-berth campervans distinguished into Standard Camper and Standard Camper 2007-2008. The first one is much cheaper than the second type because it is operated by older vehicles, usually 1999 - 2005 models. They don't really differ in style except with certain inclusions for the Standard Camper 2007-2008 such as AM FM Radio / CD, power inverter, fly-screens and larger fuel tank capacity at 55 litres.
3 Seater Maxi Camper
The 3-seater Maxi Camper is great for couples with one kid because this campervan can add one baby seat.The campervan model ranges from 1998 - 2004 and comes with a higher fuel tank capacity. There are storage areas under the benches, which is great if you're travelling with more camping stuff.
Maxi Van Plus
If you want more space, there's the Maxi Van Plus or the 2006 Winnebago Motorhome with a more roomy interior and comfy amenities. The Maxi Van Plus can sleep 3 adults or 2 adults and one child in a booster seat. This vehicle is quite smaller compared to the Winnebago, so it's easier to maneuver.
2006 Winnebago Motorhome (Interior)
The Winnebago is the priciest among all 2/3 berth campervans as it is well-fitted with facilities like shower & toilet, 3-burner gas stove, and microwave. For larger families, you can have the 4-seater Automatic Sunliner Motorhome or 5 Seater Motorhome priced at the same rate with almost the same features.
Insurance
Just like most companies, a bond is required on all campervans and motorhomes at time of collection. The insurance options are the same for drivers 21 to 24 years old and those 25 years and over. But by paying $17 per day (option 1), the bond and excess is reduced to $900 each, but does not include glass & tyre protection. But if you pay $33 per day (option 2), the bond required will now be at $200 and excess is reduced to $0 plus inclusion of glass & tyre in the coverage. But take note that the maximum charge even if you opt for option 2 is still $1400.
Reputation
Overall, Driveabout Campers are not really standing out from the crowd in the budget campervan range. As a smaller company, you need to offer something really amazing to be the choice of the bottom end majors. Offering roadside assistance and a choice of manual or automatic cars really aren't going to get you to the top. Feedback on Driveabout Campers is also mixed. But at the end of the day, they are aiming at the cheap campervan hire market.
Summary
Driveabout Campers is a decent budget campervan but it's not really that favorable in terms of reputation. Still, they can be a lucky shot if you want to save heaps of money on a campervan hire.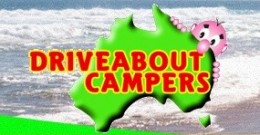 From the Agency
No word from this agency yet. Come back and see if they checked in soon.
Pros
Cheap
Free airport pickup and return service
More than 6 decades in the industry
Cons
Nothing special about the vehicles
Mixed feedback
Older models on fleet
See who else rents Campervans in the same cities
Instant Price Comparison
Just Got Questions? Want a Quote direct from the company?
Fill in this form to contact the Agency direct.
Write Your Own Review
Tell the world about your experience renting from this company
1 Review
Lucky for you davo. Our experience was an average camper with a battery that didn't work, Darryl telling us to call the racq and we hadn't left the carpark where we were picking it up! One headlight wasn't working, the inside of the van was falling to pieces and when we returned the van early (and didn't ask for refunds) we were treated as an inconvenience. You get what you pay for.
Harry
1

Service
1

Mechanical
1

Interior
1

Value
1 Review
I travel australia taking surfing shoots for mags. i hire from many companies but i found these guys on the gold coast ( by accident and i mean accident i nailed a guy with my board and we got talking and the camper came up. blew me away!!!!!!! they were cheaper than everyone else and they had everything in the camper. but the best thing we did the whole deal with the owners " not a machine" check em out you wont be dissapointed
davo
5

Service
5

Mechanical
5

Interior
5

Value