Australia
Editors Review
Catering the budget market, there are only two vehicle types on set for Northern Beaches Motorhome Rentals― the 4-berth and 6-berth Winnebago Ceduna models. Each motorhome is easier to maneuver and are well-equipped with all the comforts of home, from kitchen facilities to sleeping essentials. The owners supply almost everything under the sun, and all you have to do is turn on the engine and enjoy the road trip. If you think that's all they could offer, well all vehicles on fleet come with efficient amenities like generator, solar energy and 240 volt appliances. So, you don't actually need to park in designated camp sites just to run the power because even in remote areas, you can charge all your gadgets. Say goodbye to cold evenings as all motorhomes are armed with diesel or gas heaters.
The 4-berth model stresses out its spacious interiors that starts from the double and queen-sized bed in the rear to the easy access of entertainment set― TV and DVD player. A 6-berth step-up unit is a bit more expensive but comes with substantial and comfy features such as cozier layout and striking amenities like automatic double bed, removal table, sleeping bags, underneath storage and more. And since Northern Beaches Motorhome Rentals is a small, locally-owned entity, they can only provide one depot for pick-up and drop-off of rented units.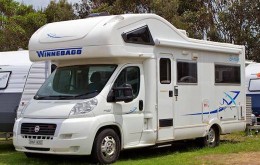 From the Agency
No word from this agency yet. Come back and see if they checked in soon.
Pros
Fully-equipped motorhomes
Affordable rates
Cons
Small and relatively unpopular motorhome rental
Only one depot
Limited motorhome types
See who else rents Campervans in the same cities
Instant Price Comparison
Just Got Questions? Want a Quote direct from the company?
Fill in this form to contact the Agency direct.
Write Your Own Review
Tell the world about your experience renting from this company
Have you experienced Northern Beaches Motorhome Rentals?
Be the first to leave them a review and help others on their journey.