Australia
This Company has ceased trading, or is otherwise no longer operating.
Editors Review
That's a big claim, but to back it up they offer to beat any competitors price by 10% - an offer we can find nowhere else. They have a limited fleet of old style campers that are 2 berths only. Very few details are available to the renter prior to booking as to what comes with the campervan and the vehicles have to pick up and delivered back to Launceston.
Swag Campers are not overly forthcoming with what they supply with their campers or much of anything really. The best way to find out more about this company before renting from them is to call them. Suffice to say it is a bare-bones operation, with a bare bones price that might have bare bones support if there is a problem. On the up side, if there IS a problem, you are almost certainly going to be dealing directly with a decision maker and not a poorly paid employee following a rule book.
24-hour roadside assistance is included and the bond is $3000 taken off your credit card at the time of rental if you don't take out any extra insurance. Don't forget the 2.6% additional surcharge for credit cards (I am so looking forward to July 2017 when companies can't charge more than 0.8% for credit card fees). Alternatively, you can pay an extra $25 per day and get the excess reduced to $300.
One other interesting thing to note about the company is restrictions on driving. Check out these from the Terms and Conditions...
3.2 You and any Authorised Driver must not unless authorised in writing by Swag Campers, drive or take the Vehicle:
(a) Outside of Tasmania; (yeah, OK)
(b) above the snow line in Tasmania from the beginning of June until the end of September; (Where EXACTLY is that?)
(c) Between dusk and dawn; or (What if we haven't made it to a safe place to camp by dusk?)
(d) on beaches or through streams, rivers, creeks, dams or floodwaters. (yeah OK)
In particular, the snow line and the time of day restrictions are quite unusual and something you should discuss with the owners prior to departing.
Have Fun
Tim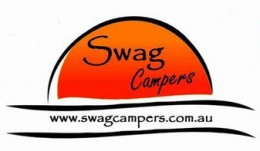 From the Agency
No word from this agency yet. Come back and see if they checked in soon.
See who else rents Campervans in the same cities
Instant Price Comparison
Just Got Questions? Want a Quote direct from the company?
Fill in this form to contact the Agency direct.
Write Your Own Review
Tell the world about your experience renting from this company
Have you experienced Swag Campers?
Be the first to leave them a review and help others on their journey.