Australia
Editors Review
Last Updated: 8/22/19
Totally Campers is a budget-friendly campervan hire that operates all over Australia with depots in Cairns, Brisbane, Melbourne, Sydney, and Adelaide. They have 2, 3 and 4-berth campervans that offer best campervan deals from Sydney to Cairns.
About Totally Campers
Totally Campers specializes in campervan hire from Sydney to Cairns, hence they consider themselves as experts for Sydney to Cairns road trip. So if you are planning on travelling such places, they are most likely a good choice. Their vehicles are quite old, but they assure that all are in good condition. And the good thing about Totally Campers is they've got the best price guarantee, which means their rates may be cheap, but these are already inclusive of the basic necessities. And the longer the trip, the cheaper it gets.
Fleet
The company has a limited selection of campervans and a 4WD road camper. Currently, they have 4 types of vehicles. However, they provide renters with choice for each campervan. They can choose whether standard, deluxe, hightop or family campervan. The standard type is the most affordable edition, but each type of campervan has unique features— from the vehicle model to the vehicle accessories. Their vehicles can accommodate 2 to 5 persons. Most of their vehicles are usually 2002- 2011 models. All campervans have 5-speed manual transmission. Some of the campervans have a refrigerator, shower, and toilet.
Vehicles
The Smartie Campervan
To start, if you are looking for an affordable 2 or 3-berth campervan, you can choose from these two: Smartie Standard and Smartie Ultra. The two vehicles have almost the same features, including gas stove, sink, pots, pans, kitchen utensils, camping tables, and chairs. The difference between the two is the age of the vehicles. Smartie Ultra campers are mostly 2007 – 2011 models of either Toyota or Mazda, while Smart Standard uses earlier models that range from 2002 – 2004. In light of this, the Smartie Standard is far more affordable than the Smartie Ultra. However, since the Smartie Standard is cheaper because of the earlier model used, there is no guarantee for a working air-conditioner.
The Hi-Top Campervan
Further, the Hitop is a spacious and affordable campervan. This campervan also comes in two editions: Hitop Standard and Hitop Deluxe. All Hitop campers can seat 3 people, but if you are looking for a camper that offers space for 5 people, then the special edition 5 Seater Hitop―in Standard or Deluxe, is the model you need. Also, Hitop Deluxe is a bit pricey than the Hitop Standard because of the newer model used and the additional kitchenette accessories such as gas stove, microwave, and sink.
The 4 Berth Campervan
For a comfortable accommodation of 4 to 5 people, there is the 4 Berth Deluxe or Standard Motorhome. Both editions of 4 Berth campers are inclusive of a refrigerator, freezer gas stove, hot & cold water, microwave, shower, and toilet. However, the 4 Berth Deluxe is apparently the ultimate choice for comfort and style at the best price. It comes with one king-size bed and one queen-size bed. You can also add linen, pillows, and blankets at $25 only.
Mighty 4WD
Lastly, there's the Mighty 4WD, a perfect choice for adventurous couples. This off-road camper is equipped with almost the same features as the Smartie campervan―gas stove, pots, pans, and other kitchen utensils. One unique feature of this unit is its hard shell tent that sleeps two daring people. Plus, there are slide-out drawers beneath the tent for you to store your stuff. So, if you want to visit some unpopular routes, the Mighty 4WD is a cheaper option compared to 4WD Land Cruiser.
Insurance
The insurance excess depends on the type of vehicle rented. It ranges from a standard excess of $2500 to $5000. For the Smartie, you have the option to pay $19 per day to limit the excess/ bond from $2, 500 to $500; the Hightop at $22 per day to reduce the excess/ bond from $3500 to $500; 4WD at $25 to limit the excess/ bond from $5000 to $1,500 or $35 to reduce it to $500.
Totally Campers specifies that the hirer is accountable for the excess for the cost of damage, either for the rented vehicle or third party property. The cost of damage includes single-vehicle accidents, tire and windscreen damage, fire, theft, break-in, vandalism, towing and the daily cost of vehicle idleness due to repairs. The insurance coverage does not include single-vehicle accidents and submersion in water such as driving in creeks, rivers, flooded areas, beach or any saltwater.
Reputation
Talking about reasonable price and personal customization, Totally Campers is a great choice. It is tagged as one of the most affordable and comfortable campervan hires for Sydney to Cairn. However, they have limited reviews to back up their reputation. Still, if you want to try something new without breaking the bank, then they can be a decent option.
Summary
Totally Campers continues to be a budget-friendly campervan hire in Australia, with specialization in campervan hires from Sydney to Cairns.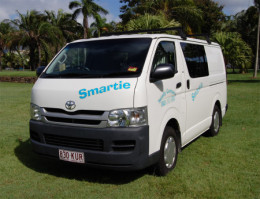 From the Agency
No word from this agency yet. Come back and see if they checked in soon.
Pros
Multiple depots
Cheaper rates
Family-run
Cons
Not so popular campervan hire business
Limited selection model types
Limited stock levels
See who else rents Campervans in the same cities
Instant Price Comparison
Just Got Questions? Want a Quote direct from the company?
Fill in this form to contact the Agency direct.
Write Your Own Review
Tell the world about your experience renting from this company
1 Review
Unfortunately we had a terrible time with our van. It was difficult to get to the place we had to pick it up from, we had to wait a long time and the staff did not give us enough information about why we were having to wait. When we got the van we found that the handbrake didn't work, neither did the internal fan and there was no cigarette lighter. We asked the owner of Totally Campers for a replacement van but were told none was available and that instead we should get these problems fixed and Totally Campers would pay for the bill. This was not what we expected to be doing on our holiday as obviously every moment is precious. We ended up having 3 days of having to waste our holiday time at garages trying to find times when they could fit us in, getting the cigarette lighter "fixed", the fan investigated and the brake issue investigated and finally getting the breaks "fixed", although Totally Campers did not want to spend money getting the brake pads and cylinders changed, as the mechanic had recommended, since they said they would be selling the van at the end of our trip anyway. This left us worrying whether we would be at all safe on the remainder of our trip, especially as we learnt the problem with the handbrake could have also caused the foot brake to stop working as well. Not to say the issue with the handbrake wasn't enough when we were on a hill in traffic and trying not to roll back into the car behind us. The fan incidentally was never fixed so we had to put up with a roasting hot van for our entire trip. Other issues we had included that the bedding provided, one sheet and a thin blanket to share, was totally inadequate at the start of our journey meaning we had to get duvets which were discarded at the end of the trip. The knobs on the gas cooker were broken which meant we had great difficulties using it. All in all we were very disappointed.
We complained to the owner on the returning of the vehicle. He did not seem to sympathise at all with our issues. He said if he was in our position he would have dumped the van in Sydney. We had been in contact with him throughout our trip so he knew the difficulties we were going through. Instead of being apologetic he was rude. He offered us one day of compensation which was totally inadequate and after much arguing he gave us 1.5 days compensation. I would definitely not recommend Totally Campers.
1

Service
1

Mechanical
1

Interior
1

Value
1 Review
I would rent from Totally Campers again.
5

Service
5

Mechanical
5

Interior
5

Value