New Zealand
Editors Review
Last Updated: 9/28/19
Comet Campervans New Zealand is a long-lived rental company that subleases 2 to 3 berth budget campervans from partner companies has made its way to the NZ rental market.
About Comet Campervans New Zealand
Established in Sydney around the year 1993, the company expanded to New Zealand in 2008 to continue its growing campervan hire business. But did you know that campervan dealership is the real business of Comet Campers? Why? Well, they don't actually own their vehicles but rather sublease from their partners like Travellers Autobarn and Escape Campers. Hence, they could not provide a direct website that will largely talk about their 3rd parties campers. They are usually advertised by other campervan search engines that promote their fleet instead. Despite the slight restrictions, Comet Campers offers cheaper rates than renting from the original supplier, making them a good option for budget backpackers. When you explore NZ, there are certain rules you need to know beforehand, particularly about freedom camping. To give you some freedom camping guidelines, check this out.
Fleet
Since the campervans on fleet are not owned by the company, the vehicles are not directly maintained and serviced. Most campervans are older with only a few modern fit-outs, which is one of the reasons why it's aimed at the budget market, aside from being a sublease. Unlike the Comet Campers Australia, the NZ branch has only three limited choices of 2 to 3 berth campervans, ranging from the tiny Toyota Estima to the spacious Toyota Hiace. The campervans do not really have something unique to brag about– standard models with plain exteriors and not-so-fancy extras, which are also provided by bigger rental companies in NZ. But, if you're talking about price, then, of course, Comet Campers can give you a good fight.
Vehicles
Station Wagon
This tiny yet compact Toyota Estima is a backpacker classic. It is a fantastic choice for those who want to save heaps of money from a campervan hire. The Statiowagon comes with an automatic transmission and has a sleeping capacity of 2 adults. The unit comes with an air-conditioning and heating in the driver's cab and some entertainment extras like radio and CD player. Although there's no toilet inside, you are provided with a porta-potty.
Hightop
Sleeps up to 3 adults, this Toyota Hiace can also cater children above 4 years old, as long as a baby or booster seat is fitted by the customer and not the company. The campervan is great for those wanting some space (though not really overly spacious) after a long drive. The convertible dinette transforms into a double bed at night and the other single bed is located in the hi-top roof. Your kitchen is also provided with 2 hobs cooktop, 60 L fridge, microwave, and sink. Another unique addition to the campervan is the iPod/ USB connection, so be ready with your playlist!
Hi5 Camper

These Hi5 Campers may be older Toyota models but these come with 2018 fit-out. The spacious living room easily converts into a large double bed. On top of these double bed is another double bed, which means a total of 4 persons can sleep inside. At the rear area is a well-equipped kitchen that has a sink, cooktop, microwave, and storage spaces.
Kuga
The Kuga is a 2009- 2013 model with a recent fit-out. It is also a 3 berth campervan that can be great for those travelling with a child. Compared to the tradition Hi-top, the Kuga accents more internal height and thoughtful extras like flyscreens and 240-volt power points that can be utilized at power campsites. The extra storage room allows you to store your stuff comfortably and walk around inside conveniently.
Comet Chubby Camper

The Chubby Camper is suitable for two people wanting a simple yet functional place to eat, relax, and enjoy. This 2 berth camper comes with a modifiable living space, rear kitchenette, LED internal lights, and 2 USB charger.
Insurance
The bond or liability is at $3, 000, which is already included in the daily rate. This is cheaper than other bigger rental corporations that could go as high s $7,500. Still, you have the option to reduce the bond by availing their Protection Plus @ $30/day to limit the excess to $300.
Reputation
Comet Camper, as a whole, is a nice substitute from the original owners, especially that they have lower rates compared to their suppliers. However, the servicing and maintenance of the vehicles could be an issue as the company does not own the vehicles. Most campervans are also older vehicles with standard exteriors and interiors, which are supplied in other rental companies.
Summary
Now that you know that Comet Campers is just a campervan dealership that subleases vehicles from other companies, will you still consider renting out a campervan from them? If you are in a tight budget, then hiring a vehicle from them is suitable. But, do not limit your selection as there are other options in the market.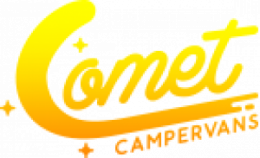 From the Agency
No word from this agency yet. Come back and see if they checked in soon.
Pros
Quality campervans with cheaper rates than the original owners
Owned by a bigger company than itself
Cons
Limited depot
Mostly older campervans
Small company in itself
Not suitable for larger groups
See who else rents Campervans in the same cities
Instant Price Comparison
Just Got Questions? Want a Quote direct from the company?
Fill in this form to contact the Agency direct.
Write Your Own Review
Tell the world about your experience renting from this company
Have you experienced Comet Campervans New Zealand?
Be the first to leave them a review and help others on their journey.