United Kingdom
Editors Review
Take a look at Big Sky Campers' fleet of Land Rover, Mazda Bongo, and VW campervan models that are perfect for couples and families up to 4.
About Big Sky Campers
Before Big Sky Campers, there was Edinburgh Campervans. Well, actually, they are one and the same, though they are more known with their trading name―Big Sky Campers. This Edinburgh-based company is a great campervan hire business with a pick-up within the city centre. If you want, you can request for airport service for an extra charge.
What makes them unique is their diverse campervan options that are recommended for groups up to 5. The owners are campervan enthusiasts themselves that's why all campervans are well-maintained and fully furnished.
Fleet
At present, Big Sky Campers offers 6 campervans for rent. These are a mix of Land Rover, Mazda Bongo, and VW models. Each campervan has its own style and frills, though there's nothing to worry about because all these are fully equipped with essentials for a great and comfortable holiday. Because of their sizes, these units are very economical and easy to drive.
Plus, these are pet-friendly vehicles geared with exciting extras like bedding, blankets, crockery. pots, pans, outdoor chairs, and a lot more! They can even provide full child seats as well as booster seats. Both Land Rover and VW vans are manual while the Mazda Bongo is the only automatic option.
Vehicles
Wallace

If you have a penchant for off-road adventures, Wallace the Land Rover is the perfect match for you. This stunner comes with all the needed rugged features for a rugged-like road trip. It's the best setup for 2 adventurous people. There's a built-in kitchen for you to easily prepare your meals and a pop-up top to provide an extra interior height. The large fold-down double comes from the convertible seating area with plenty of underneath storage. You can also keep some of your stuff on the roof rack.
VW Ruby
Sleeping 2 to 4 persons, Ruby is a sassy VW T6 camper that is easy to drive and economical to run. This short wheel based camper has a pop-up roof to add height and ventilation inside. The 2-person front passenger seat smoothly rotates so everyone can relax and dine in together. For extra convenience, Ruby has a heater to keep you warm on cooler nights and air conditioning for you to stay cool on summer days.
VW Betty

This electric blue VW T6 camper is surely a head-turner. Just like her sister Ruby, Betty is a great vehicle for groups up to 4. It's also easy to maneuver and has all the facilities you need, including a nice kitchen, sleeping spaces, storage areas, and a swivel front passenger seat.
VW Harry
Also from the VW T6 range is Harry, the latest addition to the fleet. This fully-equipped Transporter highlights some luxury features that make it a standout. Instead of rear barn doors, it has a tailgate. Plus, it has a wind-out awning and its interior is more sophisticated and stylish. This one also comes with the essentials like kitchen, beds, spacious table, storage areas, and more.
VW Eileen
If you prefer a classic, white camper, there's VW Eileen, which is also a 4 berth camper. Eileen is quite unique compared to Betty and Ruby, though it's still perfect for touring families. Its rock & roll double bed is very easy to use; plus, it provides an extra double bed in the pop-top roof. There's also a privacy glass throughout the cabin as well as blackout curtains.
Bongo
To complete the Big Sky Campers fleet is the 2 berth Bongo. This is the perfect choice for 2 travellers who are on a budget. But of course, this does not mean substandard quality. The unit even features all practical amenities needed for a fun and comfortable holiday. These include a big, foldout double bed, small kitchen area, and ample storage for two. And, this is the only automatic camper.
Insurance
Big Sky Campers requires you to provide a security deposit of £1,000, which will be taken through bank pre-authorisation. This amount will be used as payment for the insurance excess.
Reputation
All the campervans provided by Big Sky Campers are very economical and easy to drive. Plus, these have everything you need for you to hit the road comfortably. Many renters love how diverse their fleet is. It consists of three campervan models―Land Rover, Mazda Bongo, and VW units, which give them lots of choices. Plus, these vehicles are not just ideal for couples and small families up to 4 but also for those with pets. The owners are very hands-on and friendly with each rental, hence their reputation is quite remarkable.
Summary
Whether you want to get off the beaten track or you just want to have a laidback road trip, Big Sky Campers has something from their amazing rental selection of 2-4 berth campervans.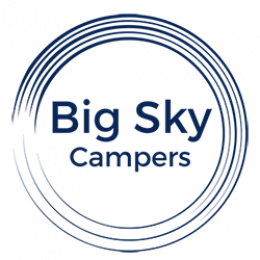 From the Agency
No word from this agency yet. Come back and see if they checked in soon.
Pros
Impressive campervan selection
Ideal for couples and small families
Pet-friendly vehicles
Cons
May not be suitable for groups bigger than 4
See who else rents Campervans in the same cities
Instant Price Comparison
Just Got Questions? Want a Quote direct from the company?
Fill in this form to contact the Agency direct.
Write Your Own Review
Tell the world about your experience renting from this company
Have you experienced Big Sky Campers?
Be the first to leave them a review and help others on their journey.