United Kingdom
Editors Review
A small and pet-friendly family business, Big Tree Campervans lets you create your own adventure with the help of their hospitable crew that includes Bob, The Big Tree Dog.
What Big Tree Campervans Tells Us
Based in a small village north of Perth, Big Tree Campervans is a homey substitute to large campervan rentals in the UK. With a humble depot in the very heart of Scotland, the company targets those who loves travellings as much as they love their furry friends. Yep, this relatively small entity welcomes your pet dog inside the campervans at no additional fee! Take note, they do not focus on cheap campervan hires but to beat other competitors, the company excites you with their special offers like the price beat guarantee and half price transfers from Edinburgh Airport. Since they only have one branch at their family home in Bankfoot, that's where you can pick up most of the campervans, except for some other vans that are located at another premises but just within the area. If you're planning to bring your personal car, then you can leave it conveniently at their place for free.
Fleet
The Big Tree Campervans has a limited fleet of Hyundai and Toyota units but the great thing is these are equipped with full kitchen equipment and fresh water and waste water tanks. You are supplied with a welcome kit that includes personal goodies from the owners themselves. Also, 2 camping chairs and even child booster cushion seats are provided for fee. There is no mileage restriction so you can travel at your own pace with peace of mind. These Hi-top units are not too small and not too big for your Scottish holiday, allowing you to just hop from one place to another and drive even to the most remote locations and park in normal spaces. Not only that, they offer pet-friendly campervans, which is great for you and your furry friend. All campervans are automatic except for the 4 berths Rowan, Spruce and Birch. And since the company does not offer cheap campervans, the units on offer are recent models!
Vehicles
Holly and Alder

The Holly and Aldre are automatic campervans built on a Hyundai i- 1800 with sleek grey finish. The units are ideal for families with older children as the other double bed, aside from the convertible rear bench, is located in the roof compartment, which needs a set of steps before you reach the sleeping area. The laid-out kitchen at the back of the front seat are supplied with efficient facilities such as sink, gas hob, a good-sized fridge, and external gas point that can be used for outdoor cooking. And whether you opt for a comfy indoor dining or an alfresco meal, the free-standing table can easily be moved around inside and outside the campervan. The Alder is particularly fitting if you're planning to bring your doggie mate on your trip.
Rowan, Spruce and Birch

These three manual campevans, also based on a Hyundai i-1800, are the ideal fit for those bringing their kids. With a lower internal height at 2.10 m, your kiddos will not have a hard time climbing up into the roof compartment bed. Plus, the double bed in the roof easily store away at day time so that you have plenty of space for standing up inside the campervan. These units also feature a main double bed from the rear bench and a useful kitchen area with everything you need.
Oak and Larch

For the 2 berth category, let's start with the Oak and Larch on a Toyota Alphard base unit. These small but nicely-designed campervans are your go-to options with a hint of fancy extras like the drive away awning. With a lower but still powerful 2.4l petrol engine, the vehicles can get you to places. The three-quarter sized bed positioned at the rear, which also transforms into a seating area during the day, is comfortable enough for two people.
Willow

With bigger engine size and slightly longer vehicle length, the Willow can now provide you with more than enough comfort and space for two people on-board. The generous headroom space lets you stretch your arms nicely and even allows you to store you stuff conveniently on top. Another unique feature of this 2 berth campervan is its huge and comfier double bed. All other facilities are also supplied like the kitchen and dining table.
Insurance
Big Tree Campervans does not require you to pay for upfront cash or credit card for the security deposit payment amounting to £750, which also applies as the damage excess to all claim. As a default, their insurance option, Damage Excess Reducer, that limits your excess to only £200 and Windscreen & Tyres insurance is included in your booking at an added cost. You have the right to take it out but must be willing to take the risk.
Reputation
Big Tree Campervans is an unassuming yet nice rental company in Scotland that allows you to experience a friendlier campervan hire. Their limited campervan options are modern units packed with all essentials, except for bathroom. As a business that gives you option for you to travel with your pet, this is way attractive. Though their prices do not target the budget market, their price beat guarantee is a great.
Summary
Big Tree Campervans is a favorable option for your Scotland holiday. They have 2 berth to 4 berth campervans that can give you a simple but pleasant rental on the open roads.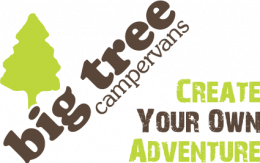 From the Agency
No word from this agency yet. Come back and see if they checked in soon.
Pros
Family business with friendlier rentals
Pet-friendly units
Price beat guarantee
Cons
Limited campervan options
Only one depot
Not that distinguished in the business
See who else rents Campervans in the same cities
Instant Price Comparison
Just Got Questions? Want a Quote direct from the company?
Fill in this form to contact the Agency direct.
Write Your Own Review
Tell the world about your experience renting from this company
Have you experienced Big Tree Campervans?
Be the first to leave them a review and help others on their journey.