United States
Editors Review
Bongo Buggies is a small company aimed at the budget and backpacker market, operating out of Southern California. They only provide a couple of small campervans, all of which are in bright, orange hues.
About Bongo Buggies
As a relatively small company with small rental selection, Bongo Buggies can focus more on providing a well-maintained fleet and personalized service. They only have few rental options with limited campervan styles at their depots in San Diego and San Francisco. But despite of the restriction, their vehicles are sure standout from the crowd of dull and conventional RVs on the open road. Who can miss their small yet vibrant units? No one. Their goal is to provide a fun, easy and affordable campervan holiday through their Buggy buddies.
Fleet
The three Bongo Buggies are Ford Transit, Nissan NV200 and Nissan NV1500. Beautifully painted in bright orange, all three models are way cheaper and smaller compared to normal RVs, giving you the notion that Bongo Buggies drives like a car, and not a bus. Each Buggy can sleep 2 adults and may extend up to 4 if with a rooftop tent. All rentals come complete with a kitchenette, sleeping bags, towels, linens, lantern and camping chairs. And before we forget, Bongo Buggies has free WiFi! Stay on the campgrounds while streaming movies online or updating your social media apps. In addition, these vibrant campervans are also pet-friendly, so bring your furry friend along for the trip.
Vehicles
Nissan Transit

Let's begin with their original Ford Transit or fondly called as Betty Ford, which is also the cheapest among all models on selection. You might probably think that because of its cheap price, the quality may somehow be compromised. No. This vehicle is perfect for those on tight budget but still wanting a convenient road trip. With just $79 per night, you don't need to sleep on the ground, but rather on a comfy bed inside the vehicle.
Nissan NV 2000

Another 4 seating but 2 sleeping campervan is the Nissan NV 200 or also called as Bella. This bright and kind of sturdy-looking campervan is a step-up model of the first one. And since it is an upgraded version, it is equipped with more exciting features, making it the most popular one. If you want this one, book it as soon as possible because this easily books out!
Nissan NV200

Lastly, the ever fascinating Big Bertha, a Nissan NV 1500 that comes with a lot of specialties. It has everything you need, from cooking and cutlery to sleeping bags and pop-up tent, making it the flagship of model. This is great for couple wanting extra space while travelling or even small families up to 4. So, if you're planning to take 2 kids with you, the they can easily climb up to the pop-up tent and enjoy a cozy sleeping area.
Insurance
During the reservation stage, you may need to pay for a fee for your insurance application processing as well as the coverage once you've passed the DMV check.
Reputation
These small and fuel-efficient campervans from Bongo Buggies drive like car not a bus. The bright color will stand out; hence, could not give you a more discreet holiday. Still, couples or starting families can get a great deal of savings from hiring a unit from them because their rates are affordable. Before, there were concerns about difficulty in reaching them through their website. But once you get a hold of their service and vehicles, you'll be amazed with this small rental company with impressive accommodation.
Summary
Bongo Buggies are mini RVs without the expensive price tags and stress of driving a large bus. These compact buddies are good for smaller groups looking for an affordable yet well-equipped campervans. Just bring your clothes and food, and you're off to go!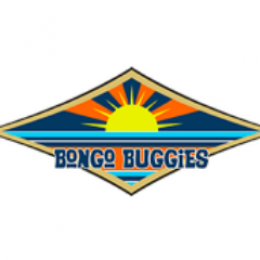 From the Agency
No word from this agency yet. Come back and see if they checked in soon.
Pros
Small and fuel-efficient campervans
Drives like car not a bus
Bright color will stand out
Affordable rates
Cons
Only couples or starting families
Limited stock
Could not give you a more discreet holiday
Feedback about unresponsive website inquiries
See who else rents RVs in the same cities
Instant Price Comparison
Just Got Questions? Want a Quote direct from the company?
Fill in this form to contact the Agency direct.
Write Your Own Review
Tell the world about your experience renting from this company
Have you experienced Bongo Buggies?
Be the first to leave them a review and help others on their journey.