United States
Editors Review
Another addition to the booming Mcrent rental ventures, McRent USA takes their fleet from a partner company that offers Coachmen, Hymer, Roadtrek and Winnebago RVs.
What McRent Tells Us
McRent has branches all over Europe, and now with New Zealand and USA. The recent additions create a positive stance to the company. But upon further research, it appears that the McRent USA is just subleasing their vehicles from Best Time RV- a newish yet very promising RV rental with depots in Las Vegas, Los Angeles, San Francisco and Vancouver. To provide convenience to the renters, the company allows one-way trip to from any of the four locations. However, just be reminded that the minimum driving age is 25 years for all vehicles.
Fleet
With the same fleet as Best Time RV, McRent is in good hands. There are several choices for different types of renters, ranging from the Class C Coachmen to Class B Hymer, Roadtrek and Winnebaga. Sleeping up to 4 persons, all RVs are equipped with a V-8 engine and require 30 amps.
The varying coach styles feature unique amenities that will take your American road trip to the next level. Aside from shower and toilet, each RV is supplied with a refrigerator, burner stove and oven, which are operated using a propane gas. The roof air-conditioner is powered by the on-board generator or an outside 110 power supply, while the cab air-conditioner is supplied while the engine. Most of the vehicles on fleet are close to new and are designed with premium materials and classy fit and finish.
D-22: Coachmen Freelander

The Class C Coachmen Freelander is ideal for newbie and even experienced RV drivers. The spacious rear storage compartment can fit all your stuff and the HD TV provides entertainment while on the road. From the vinyl ceiling down to the matte leather finish floor, the rate of this RV is quite a surprise. Even with its classy layout, it comes at an affordable rate, giving you the right balance of value, beauty and function.
B-21: Hymer
First option in the Class B category, the Hymer Activ contains more user-friendly features, with more premium design. It accentuates EcoTrek, which provides an efficient battery management. The unique EcoTrek system also allows convenient road trip even in any weather conditions, from hot summer days to cold winter nights. Hence, the functionality of this RV makes it very easy to maneuver and park around. The RV's monitor panel shows you the individual levels of the water, propane and battery. And to top it all, it comes with a solar charging system at 250 W.
B-21: Roadtrek Zion

For a sleek exterior and fancy interior, the Roadtrek Zion is the bomb. Built on a Ram ProMaster chassis on a Roadtrek model, this luxury RV is versatile enough to bring you to the scenic outskirts and bright metropolitan. The abundance of space and storage, as well as the panoramic windows, exudes a more streamlined aura inside the RV. And don't forget the posh amenities that include large refrigerator, spacious galley, comfy living quarters, exterior shower and permanent bathroom, which complete the luxury vibes of your road trip.
B-21: Roadtrek Simplicity
A tone down, not with the luxury feels, but rather with the price, the Roadtrek Simplicity is simply elegant at a competitive rate! This RV offers comfort and luxury without breaking the bank. The sleek design that includes large windows, rear comfy sofa, and queen-sized bed, allows you to enjoy the journey even more. You will also feel very comfortable moving around inside the vehicle because of the spacious interior. Not only that, the RV is fitted out with a 12' manual awning for you to enjoy some outdoor fun.
B-21: Roadtrek Simplicity
Pretty much the same with the previous one, the Simplicity SRT is built on a Ram ProMaster 2500 van instead of a 3500. This 2 to 3 berth RV allows alfresco dining because of the pull out pantry with large pot drawer. And the fixed queensized bed comes with some additional storage underneath for your things.
E-23: Winnebago Minnie Winnie

When it comes to Class C motorhomes, the Winnebago Minnie Winnie is the most popular RV model. This classic motorhome for travelling families features a private bedroom that sleeps two and a cab overhead bed for your kid or extra passenger. The living area provides a good entertainment set with HDTV and DVD player, and the rear features a roomy compartment for your storage needs.
B-21: Winnebago Travato


For adventure seekers who do not want to let go of the sleek motorhome hire, then this Winnebago Travato solves your problem. You may tag along your bike or kayak in the fitted rack to help you enjoy a rugged road trip. The amenities such as leather furniture, elegant countertops, and exterior sound system enhance a day inside your motorhome. This vehicle is not just classy, but also fuel-efficient, making it a great value for money.
Insurance
At the time of vehicle pickup, the renter should secure the $1,000 deposit in the form a credit card, though they also accept cash deposits. There aren't liability options, but considering that the amount is not very big compared to other rental companies, it may be agreeable. The daily rental rates already include Collision Damage Waiver (CDW) and Vacation Interruption Protection (VIP). However, CDW does not cover overhead, undercarriage and back up damage, which will be shouldered by the renter.
Reputation
McRent, of course, is well known all over Europe, and slowly starting to capture the NZ and USA market. But instead of bringing their fleet to the USA, the company opted to sublease vehicles from a new yet promising RV rental company. This move has its fair share of advantages and disadvantages, but as a whole, the company is on the positive side considering the good reputation of the original supplier.
Summary
Offering an extensive range of motorhomes from a reputable company in US is certainly a plus factor. You have lots of choices on hand, and the rates are quite attractive. So, you can take a look at their rental fleet and see what suits you.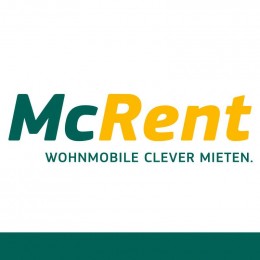 From the Agency
No word from this agency yet. Come back and see if they checked in soon.
Pros
Extensive range of motorhomes
Numerous depots
Competitive rates
Cons
Subleases vehicles from a supplier
Maintenance and servicing could be an issue
See who else rents RVs in the same cities
Instant Price Comparison
Just Got Questions? Want a Quote direct from the company?
Fill in this form to contact the Agency direct.
Write Your Own Review
Tell the world about your experience renting from this company
Have you experienced McRent USA?
Be the first to leave them a review and help others on their journey.