United States
Editors Review
Focusing on pet-friendly rentals, Shady Maple RV is quite reputable in giving affordable motorhome hires in Pennsylvania. With a diverse fleet of RVs, they only have four motorhome types and the rest are pop-up and travel trailer rentals.
About Shady Maple RV
A popular RV center in Pennsylvania, Shady Maple Rv specializes not only in sales and service but also rentals. This RV dealer is relatively known for providing quality service to its customers. Their rental department is strategically positioned in Lancaster County. Plus, they offer delivery and pick-up services for an additional fee. For your convenience, they allow you to compare short term and long term prices online. Their $10.00 discount for reservation made through their Online Rental Center is such a great deal.
Fleet
The motorhome fleet consists of four RVs of different Class A and Class C units. Each RV type offers 3 units so that you can have decent choices. These are suitable family motorhomes that cater small to big groups of 10 people, including some of your fur babies. Consequently, this pet-friendly motorhome hire is a charm for pet owners and travellers alike. Rental already includes 100 miles and 4 hours generator usage per night. Some of the units have slides and electric awning but do not include camping table and chairs. Aside from motorhomes, they also rent out travel trailers of 4 different sizes.
Vehicles
34' FR3

This 34' Class A is the biggest motorhome on the fleet that can sleep 10. One downside though is this unit isn't pet-friendly. However, this RV is very spacious with two slide-outs and side bunk beds. At the front area, beside the driver's seat, is a nice passenger workstation. And in between the two is a power foldaway bunk for an extra sleeping area. The wrap-around booth dinette and jackknife sofa with footrests convert into spacious double beds. Because of the added length and width, the rear bedroom provides a king bed, entertainment center, and wardrobe.
31' Fleetwood

This 31' Class A Motorhome is the ultimate choice for families wanting to bring their pets. Sleeping up to 8, plus your adorable four-legged friend, this unit comes with two slides and awning. The side bunks provide a great attraction to your kids while the queen bed is perfect for the parents. Unlike the other Class A with an extra fold-away bed at the front, the overhead area for this unit is specially allocated for a nice entertainment set.
24' Coachmen Freelander

The smallest motorhome on offer, this 24' Coachmen Freelander is a compact coach featuring Transit chassis with 16 to 19 MPG. Sleeping up to 6 with 4 seat belts, the motorhome is equipped with a double bed and shower and toilet at the back area. The J-lounge comes with a pedestal table and overhead cabinets. The cab-over bunk provides a swing-arm TV for convenient entertainment while the L-shaped kitchen furnishes a countertop extension on both ends.
33' Coachmen Freelander

A bigger Class C, the 33' motorhome could be the answer for families looking for a spacious interior without compromising the needed facilities. With a sleeping capacity of 10, plus two slides, the unit provides a much more comfortable layout with a full-packed living room and bedroom. There are two bunks at the rear side and another bunk option at the cab-over for your kids. The electric awning is also an added charm for families eyeing for outdoor dining.
Insurance
Insurance is included with all of the rentals but you need to coordinate with the company first upon booking so that you will know if you are allowed to provide your insurance binder or purchase an additional coverage from them.
Reputation
Shady Maple RV's rental department is known for its pet-friendly accommodation. Because they only offer a limited number of rental units, the rental department is not that well-established compared to the other services being offered by the company. Still, this RV dealer is known for their good rentals at affordable rates. Plus, they have a nice, convenient location.
Summary
If you're planning to tag your furry pets while exploring the scenic roads, then Shady Maple RV can grant your wish through their reasonable RV rentals.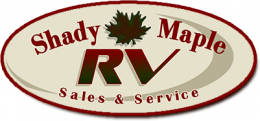 From the Agency
No word from this agency yet. Come back and see if they checked in soon.
Pros
Pet-friendly rental
Convenient location
Affordable rates
Cons
Limited rental options
Rentals are sometimes overshadowed by the company's sales and service deparment
See who else rents RVs in the same cities
Instant Price Comparison
Just Got Questions? Want a Quote direct from the company?
Fill in this form to contact the Agency direct.
Write Your Own Review
Tell the world about your experience renting from this company
Have you experienced Shady Maple RV?
Be the first to leave them a review and help others on their journey.