United States
Editors Review
Originally established in New Zealand, Wild Campers has now ventured the US vicinity as a wholesale reseller of another brand. They have chosen to partner with a company that has 'wild' paint jobs so you can always see the camper from a distance. The advantage of these kinds of resellers is that they often don't mark up the price of camper by the full amount it is discounted to them so you can often get the camper for less that if you went to the owning company direct.
One of their notable business partners, or probably the only one considering the similar vehicles on fleet, is Escape Campervans. Escape Campervans is well-known in offering cheap and catchy campervans. The company is well-suited with Wild Campers' theme for offering vehicles with funky and exteriors at economical price. But unlike its partner company that only provides two vehicle types, Wild Campers offers three vehicles for rent— 2-4 berth Ventura, 2-4 berth Mavericks, and 4-berth Mavericks. The 4-berth Maverick is the unique addition to the fleet, and the other two feature everything like those being offered by Escape. And similar to Escape, Wild Campers also comes with free 100 miles per day, which is quite fascinating since most US RV Rentals do not include this one.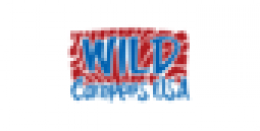 From the Agency
No word from this agency yet. Come back and see if they checked in soon.
Pros
Wild paint jobs
Competitive rates
Free 100 miles per day
Cons
Only a reseller to bigger companies
Few older models on fleet
Limited Selection
See who else rents RVs in the same cities
Instant Price Comparison
Just Got Questions? Want a Quote direct from the company?
Fill in this form to contact the Agency direct.
Write Your Own Review
Tell the world about your experience renting from this company
Have you experienced Wild Campers?
Be the first to leave them a review and help others on their journey.