Australia
Editors Review
Last Updated: 8/14/19
Expanding its business, Sunshine Campervan Hire now has three branches, with their main office in Sunshine Coast and depots in Gold Coast and Brisbane. Also building up their fleet, the company offers a lot of choices for every renter, from campervans to motorhomes.
About Sunshine Campervan Hire
Sunshine Campervan Hire offers multiple branches and multiple rental options. Because of the numerous depots, they allow one-way rentals for the convenience of the renters. Being in the rental industry for quite some time, the company has already carved a great reputation, making them a decent choice among couples or even larger families.
Fleet
Sunshine Campervan Hire offers a very extensive fleet, from luxury motorhomes to van-based campervans. These units, either manual or automatic, provide accommodation for all types of renters and are mostly new models, though there are also few older vehicles. For pet owners, you can request to bring your 'well-behaved' dogs. All motorhomes have interior shower and toilet while some campervans only have an outside shower and for rent porta potty.
Vehicles
Luxury Motorhomes
Noosa 4 and 5 Motorhome
The Noosa model comes in two variants, the 4 berth automatic and 5 berth manual. Both featuring a 2.3 litre turbo diesel, these luxury motorhomes are suitable for a family, though not for kids as there are no fitted child restraint anchor points inside. There is air conditioning in both the front and rear cabins, and HD TV & DVD player, AM/FM radio, CD player & Bluetooth for entertainment. The ensuite with internal toilet & shower is located in the middle area. In comparison, the 4 berth is equipped with a permanent double bed while the 5 berth has a rear lounge that converts into a bed.
Paradise 6 Motorhome
A 6 berth luxury motorhome, the Paradise 6 gives all room for the family (two adults and four children) and still leaves enough space for roaming around inside. This 2016 Mercedes automatic Sprinter is the largest on the range, providing lots of space and loads of amenities. Inside, there are two double beds and one dinette bed. Plus, the awning allows you to cook or relax outside. One unique feature is the separate and spacious shower and toilet.
Van-Based Motorhome
Coolum Motorhome
Moving on to the other category, we have the Coolum, a van-based motorhome that accommodates up to two. This unit is designed for anyone wanting the style of 2015 Mercedes M-B 316 Sprinter Van and the comfort of a self-contained motorhome. You get to enjoy both worlds while enjoying all its features, including a permanent double bed, full kitchen, and separate toilet and shower. Just take note that comfortable dining can be done outside because this one has no interior dinette.
Premium Campervans
Stradbroke Campervan

If you're looking for the features of a High-top campervan with some added space, then you can pick the 6-speed manual Stradbroke that sleeps up to 4 people. Ideal for couples with 2 children, the unit is highly recommended for longer road trips because of its sturdier features and roomier layout built to last for more than 5 days campervan hire.
Airlie Campervan

This 2014 Renault 150 DCI Master Van with a 2017 campervan fit-out is another option for two people. A 6-speed manual with easy shift gearbox, the unit provides an extra vehicle length to squeeze in the internal shower and toiler without putting too much interior restriction. The two rear bench seats and foldable dining table convert into a sleeping area, either two single beds or one double bed. The front area, on the other hand, offers a central fold-down table and drinks holders for added convenience,
Hi-top Campervans
Byron Hi-top Campervan
The Byron campervans are the oldest on the fleet, ranging from 2008 to 2012 manual models. Some units have solar power on the roof, but all have air conditioning in the front cabin only. These mid-range campervans maybe a few years older with a few more kilometres on the clock but these are way economical for three (2 adults and 1 child). Travellers have the option to choose 2 single beds or one double bed and one single bed in the roof area,
Mandalay Hi-top Campervan

Lastly, the Mandalay units are the top of the line 2 berth Toyota Hi-top campers with late 2016 built. These refined vehicles are suitable for couples dreaming of a sophisticated and efficient road trip. Loaded with elegant upholstery and layout, you also get to enjoy the highly functional facilities such as electric hotplate, microwave, fridge, TV & DVD player, and solar panel. No interior bathroom but you are provided with an outdoor shower. Porta-potty available for hire.
Insurance
There's a security bond of $2500, which will be required upon vehicle pick-up. This is also the amount of the insurance excess. For more information about their insurance excess and possible liability reduction, shoot them an email during rental inquiry.
Reputation
Most of the renters were impressed with their rentals, noting A service given by the owners and highly maintained and fully kitted vehicles. Also, some extras also made the rental more comfortable. With the positive praises, Sunshine Campervan Hire holds a good reputation. Another good thing to point out is the wide range of options for renters and multiple depots. They have three locations in the country, wherein they also allow one-way rentals. Since they offer a large rental fleet that consists of mid-range campervans and luxury motorhomes, they supply different options for different travellers with different budgets.
Summary
Sunshine Campervan Hire is loaded with lots of rental options, from campers to motorhomes. So, whether you're travelling as a couple or with your family, there's something that will catch your attention.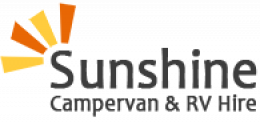 From the Agency
No word from this agency yet. Come back and see if they checked in soon.
See who else rents Campervans in the same cities
Instant Price Comparison
Just Got Questions? Want a Quote direct from the company?
Fill in this form to contact the Agency direct.
Write Your Own Review
Tell the world about your experience renting from this company
Have you experienced Sunshine Campervan Hire?
Be the first to leave them a review and help others on their journey.