Canada
Editors Review
Last updated: 7/15/19
North Campervans has now moved to a new yet still convenient location in Calgary, Alberta. The recent address is roughly the same distance to Calgary International Airport as their previous address.
---
Eat, sleep, explore with a compact home on wheels from North Campervans. Based in Calgary, this small, local campervan hire gives a decent option for budget travellers.
About North Campervans
North Campervans is a locally-owned and operated rental company based in Calgary. Established in 2016, this small campervan hire aims at travellers on a budget, wanting to explore the beautiful Canadian landscapes. They focus on compact campervans that are easy to drive than those big RVs. These practical units provide functional accommodation for two people only (though can extend up to 5 persons because of the tents for hire). And even if their rates depend on the season, their pricing is meant to provide an economical option for travellers.
Fleet
The North campervans are 2012 and newer custom re-modeled Dodge Caravans that are easy to drive. These fuel-efficient units provide seat belts to up to 5 people but only sleeps 2 people inside. The interior is well-outfitted to provide comfort for all people on board. Bedding, cookware, and camping chairs for two are included in the rental. If you want more adventure, you can rent their rooftop carrier, tents, canoe, and standup paddleboard.
Vehicles
This compact campervan lodges 2 people easily. It has a spacious storage space in the middle area that makes the double bed. The bed is slightly over 6 ft. long, plus there's an extra space for you to overhang your feet in between the front seats.
At night, you can utilize the retractable privacy curtains and exterior magnetic nets. Since the unit comes with 5 seatbelts, then you can bring 3 additional adult travellers, who can sleep either in the rooftop tent or standalone tent. Behind the interior double bed is a fully equipped kitchen that is complete with all necessary facilities including electric drawer fridge, 2 burner propane stove, stainless steel, counter-top, and removable freshwater and grey water tanks. There are plenty of USB charge outlets too for your phone and other electronic devices.
Insurance
The standard insurance option comes with full collision coverage, together with 2M in third-party liability. Fortunately, you can use your own insurance coverage from your personal insurance company. Just make sure to inform them ahead so they can verify your coverage ahead of time.
Reputation
North Campervans is a decent choice for those looking for an economical way to tour around Canada. This small campervan rental in Calgary has carved a good reputation even with lesser years in the business. Their compact campervans are truly a home on wheels―well-equipped with all essentials like rear kitchenette set-up, comfy double bed, storage area, and more! One downside though is that they only have one campervan type that caters to 2 to 5 people only, hence their fleet may not entice picky travellers, especially those who'd prefer luxury space and extra sleeping areas.
Summary
With North Campervans, you can experience a simple yet convenient, comfortable, and economical home on wheels.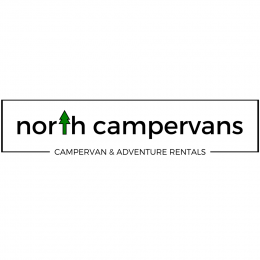 From the Agency
No word from this agency yet. Come back and see if they checked in soon.
Pros
Affordable rental rates
Compact campervans
Well-equipped units
Cons
Only one depot
One campervan style
See who else rents RVs in the same cities
Instant Price Comparison
Just Got Questions? Want a Quote direct from the company?
Fill in this form to contact the Agency direct.
Write Your Own Review
Tell the world about your experience renting from this company
Have you experienced North Campervans?
Be the first to leave them a review and help others on their journey.