Canada
Editors Review
Stocked with a fleet of one-style eurovans, Vancouver Westy Rentals lets you enjoy a rather laidback road trip through their modern version Westfalias at decent prices.
About
Based in Vancouver, BC, Vancouver Westy Rentals allows you to get the best both worlds through their updated version of classical Volkswagen vans. This means you aren't getting overly old units that are unstable but rather more modern vehicles with a vintage hint. You don't have to worry because these units are still competent on the road. Aside from the decent rates, each rental comes with 200 km per day. But since you are renting out older vans, towing and off-road use are not allowed.
Fleet
Equipped with a fleet of Eurovans manufactured from 1993 to 2003, these classic campervans of only one style can persist longer road trips because of larger engines and upgraded electronics. These vintage vans are not super old, plus all are outfitted with modern amenities, including 3-way fridge, kitchen sink, cabinetry, and even dishware and eating utensils.
Vehicles
4 berth Eurovans

Offering only one style―a classic white Eurovan―your rental options are quite limited if you rent from them. But if you're traveling with an unassuming family of 4, you might fall in love with their simple yet reliable units. All Eurovans are furnished with power windows, power doors, and dash air conditioning. Drivers can comfortably maneuver the van with the help of the swivel captain's chair with adjustable armrests. The rear bench easily converts into a double bed while the pop-up roof extends the ceiling height to give way to another double bed. The kitchen galley is loaded with two-burner stove, fridge, stainless sink, countertop, and two adjustable dinettes. Even with the completed amenities, there are still lots of storage inside. And to top it all, each unit comes with an outdoor awning.
Insurance
Vancouver Westy Rentals requires every renter to avail of their insurance coverage at an additional of $22 per day. The coverage includes a $350 insurance deductible per occurrence, as well as minimum statutory liability coverage and $5 million third-party liability.
Reputation
With only one van style, picky renters might not love their limited selection. But for groups who wouldn't mind renting a simple yet fully-equipped unit, the Eurovans are quite helpful; plus these are not very pricey and are much better than older cabins! Also, the owners are very hands-on with each rental and would even pick you or drop you off at the airport.
Summary
Vancouver Westy Rentals enables you to rent out a cozy, classical Eurovan that you can call home for the next few weeks.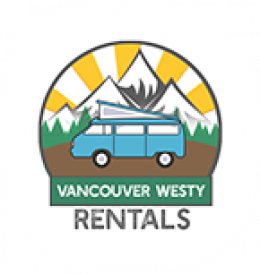 From the Agency
We are very proud to offer our fleet of VW Eurovan Campervans to tour and camp in while discovering the beauty of our part of the world! BC has amazing sights to see from the Pacific Northwest including Tofino and Port Renfrew on Vancouver Island to Banff and Jasper in the Rockies. BC is known for great hiking, white water rafting, kayaking, hot springs, salmon fishing, and of course our beautiful west cost rain forests - and let's not forget about the bears, among an abundance of other wildlife! Our Campervans come completely loaded with everything you need to enjoy a comfortable tour and camping experience and all is included in our rates. There are no extra fees for additional driver's and no prep fees. Check out our website at www.vancouverwestyrentals.com for more pictures and info showing all the gear onboard that is included in our rental rates. Adventure Awaits!
Pros
Budget rentals
Friendlier service
Nice van inclusions
Cons
Only one rental van
Older units
Only one depot
See who else rents RVs in the same cities
Instant Price Comparison
Just Got Questions? Want a Quote direct from the company?
Fill in this form to contact the Agency direct.
Write Your Own Review
Tell the world about your experience renting from this company
Have you experienced Vancouver Westy Rentals?
Be the first to leave them a review and help others on their journey.