New Zealand
Editors Review
Last Updated: 9/1/19
For more than two decades now, Rotorua Campervans exists to offer cheap, friendlier campervan hire with exciting rental perks in Rotorua.
About Rotorua Campervans
A small family business that was established in 1995, Rotorua Campervans is all about economical and more friendly campervan hire. Their personalized service begins from the free personal pick up from the airport down to the free first-night stay in their Bed and Breakfast, with complimentary storage of your travel bags. In case you can't avail of the free one-day accommodation at their place, save money with their free first rental day when you book for a minimum of 14 days.
Even if they only have one depot, they allow pick up from Auckland airport at an added fee (free if you rent a camper for at least 14 days). Because of this option, you can conveniently travel from Auckland to Rotorua and other NZ districts. Make your campervan hire more convenient and secured by knowing the different freedom camping rules ahead with the help of this tool.
Fleet
The Rotorua Campervans rental is a mix of new and old campervans, though mostly older models. There are eight units on offer, ranging from 2 to 6 berth models. Some are budget Hitop models, some are spacious motorhomes. Most of the units feature a manual transmission, with only two options for automatic gearbox—the new Monaco Dream and the budget Isuzu. All these white-painted vehicles also act as mobile billboards of the company, with some marketing touches on the exteriors. Yet, these come fully equipped with kitchen essentials and sleeping needs. Unfortunately, you cannot tag along with your furry pets during your campervan hire.
Vehicles
The New Monaco Dream
The company may specialize in budget rentals, but they can give you a deluxe ride through their one and only luxury choice— the New Monaco Dream. This luxury motorhome is custom-built for families who want to experience a road trip in style and space. Sleeping up to 6, the vehicle still leaves extra space for walking around and even standing up because of the spacious headroom. Behind the driver's cabin, there's a convertible four-seater dinette. Next, on both sides, are the bathroom and kitchen. The bathroom consists of a separate shower and cassette toilet with electric flush, while the full kitchen provides a bench space for food preparation. On the rear part of the unit is the six-seater U-shaped dining area that transforms into a large double bed with panoramic windows. The last bed option inside the vehicle is located at the cab-over Luton.
The Mileo
Tagged as a sleek, aerodynamic motorhome, the 4 berth Mileo is ready for all seasons. With central diesel, electric heating, full insulation, including the windows, the vehicle is enough to keep you warm when the temperature goes down. The vehicle is reliable enough to conquer some of NZ's gusty roads. There's an internal walkthrough from the cabin to the camper, plus the swivel front seats become additional seating places around the dining table. The entire rear area is set for the entire bedroom. And unlike most motorhomes with an over cab section for the other bed, this unit is completely redesigned with a double bed that tucks away into the ceiling cavity, saving more space when not in use.
The Explorer
The strongest feature of this 2+2 berth motorhome is its efficiency—it drives like a conventional car and positions in almost all normal size parks. The easiness and stability of the vehicle certainly attract those who are quite intimidated with bulky and heavy large models. With a Toyota Hilux based model, this one features a manual transmission with excellent fuel economy. Providing a cab-over bed with an easy one-step access and an entire rear bedroom that also acts as a dining area during the daytime, sleeping session is never a problem with this small yet compact unit.
The Granvia

Great for couples or 2 friends, the Granvia is all about convenience and reliability. The extended house battery life, plus the 2.4L EFI injection petrol engine, will let you enjoy a nonstop NZ adventure without the need to plug in at a camping site. Also self-contained, the vehicle supplies a hot external shower and portable toilet that can be used in all DOC and free camping grounds. The walkthrough from cabin to living is also a bonus factor, as well as the full kitchen with gas stove, microwave and fridge, and dining area with foldaway interior and exterior table.
The Budget Ducato


A well-loved option for couples bringing 4 kids, this Fiat Ducato is also an affordable treat for budget travellers. The unit may be a bit older compared to other options on the fleet, but it's well equipped with everything, from the living area to the bedroom. If you're wondering how can all passengers fit inside a vehicle with 5.5 m length and 3.3 m height, well, the custom-built layout is the answer. There are actually 4 beds scattered all over the unit—first bed, which can sleep two, is located on the cab-over, the second is from the convertible dinette and the last two bunk beds are positioned on the side rear. In addition to the space-saving layout, the vehicle also comes with radio CD/MP3, bike rack, outdoor table, and camping chairs for extra entertainment and adventure.
The Budget Isuzu Automatic

Another option for a 2+2 vehicle is the budget Isuzu campervan. This economical model is one of the only two automatic units by the company. Quite unique with the base unit used, the vehicle still provides a cosy and fully-equipped ride to all passengers inside. For your convenience and safety, the unit comes with double glazed windows with fly screens and gas and electric heater. Also, outdoor table, camping chairs, and gas BBQ are provided for free.
The Budget Hitop

For a group of three travellers (on a tight budget), the 2+1 Hitop is definitely a nice catch. The older campervan featuring a 5-speed manual transmission allows you to travel at your own pace. The campervan provides one single bed on the hi-top roof area and a fold-down double bed at the rear. For your simple yet meaningful road trip, you are equipped with campervan facilities such as 2 burner gas stove, fold away table, fridge, porta-potty and good ventilation with the help of large opening windows and roof vents with insect screens.
The Budget Backpacker

In need for a holiday without breaking the bank? The 2 berth Budget Backpacker is all you need to make your dreams come true. Offering all simple but useful camping comforts like a sink with cold water, burner gas stove, fridge, radio, CD/MP3, portable chemical toilet, solar shower and more, the unit is a definitely an economical way to experience the NZ adventure.
Insurance
The insurance excess/damage deposit is $3500, which is fully refundable after the campervan hire. They now offer a reduction option at $25/day that limits the liability to $1000. You need to pay the excess/ damage deposit (amount depends on whether or not you avail of the damage reduction option or not) via cash or credit card upon vehicle pick up.
Reputation
Rotorua Campervans' wide range of rental units at exceptionally good rates is something that sets them apart from new rental businesses in Rotorua. Taking pride with their more than two decades experience, this small family business has literally gone a long way. With mostly old yet still dependable campervans on the fleet, there are now new additions on the house, with same personal approach from the owner of the company themselves.
Summary
Renting a campervan from Rotorua Campervans is a good choice. You will enjoy the friendlier vibes, more personalized rental with lots of perks like free airport service, complimentary stay at their Bed and Breakfast, free storage of suitcases, and of course, the cheaper rates! Some units may already be older— well, the company is a budget rent!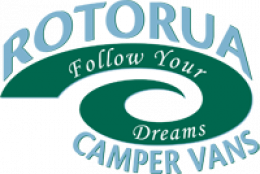 From the Agency
What makes us different. Personal and friendly service. Free first night stay in our Bed and Breakfast or a FREE first rental day when you book for at least 14 days. Free personal pick up from the airport. Free storage of your travel bags. No hidden costs! Our rental rates include GST, road tax, diesel tax and insurance. Our Campervans are fully equipped with bedding, towels, linen and kitchen utensils. 24-hour nationwide AA roadside assistance. No extra driver fees. Unlimited kilometres. Personal travel advice and tips, we know the Hot tourist spots and where the locals go.
Pros
Cheaper rates
More than two years in the industry
Friendlier service and more personalized rental
Lots of perks like free airport service, complimentary stay at their Bed and Breakfast, free storage of suitcases
Cons
Mostly older models
Only one depot
See who else rents Campervans in the same cities
Instant Price Comparison
Just Got Questions? Want a Quote direct from the company?
Fill in this form to contact the Agency direct.
Write Your Own Review
Tell the world about your experience renting from this company
Hans en Lisette
, Netherlands
1 Review
"
Fantastische ervaring

"

De ontvangst bij Jeroen en Lorraine is heel hartelijk en je voelt je meteen welkom. Omdat je net een lange reis achter de rug hebt en rustig in de vakantie modus kunt komen ( fijn appartement met veel privacy voor de eerste nacht , lekker eet bij de familie en heel veel tips en tricks krijgt) gingen we relaxed op pad. Wij hebben zelf gekozen voor een van de kleinere campers en ondanks dat ons huisje op wielen wat ouder was, reed hij heerlijk. De camper is goed onderhouden en heeft ons overal gebracht waar we wilden zijn in dit prachtige land.
Bij terugkomst konden we weer de laatste nacht in het appartement van Jeroen en Lorraine en dus ook weer uitgerust de volgende dag naar huis vliegen.
Het was een top ervaring en zouden dit iedere bezoeker aan Nieuw Zeeland gunnen.
Wij kijken terug op een heerlijke vakantie, mede door de service van Rotorua Capervans,

5

Service

5

Mechanical

5

Interior

5

Value