United Kingdom
Editors Review
Alba Campers is a well-known campervan hire in Edinburgh, Scotland, offering affordable campervans good for two persons. This top-rated company is suitable for those who want to experience an economical yet quality campervan rental.
About Alba Campers
Alba Camper is a campervan rental company that started in 2017. This Edinburgh based campervan hire focuses on cheaper rental and quality services. Even if they are a relatively new company, they are quite popular in their area. With this, they continuously provide great rental service, which includes flexible pick-up and drop-off time, a well-maintained fleet with unlimited miles. Their depot is conveniently located within Edinburgh city centre , making it much easier for renters.
Fleet
Their fleet is composed of 2 berth campervans that are furnished with some camping essentials, including cooking utensils, cutlery, cool box, table, and chairs. These campervans are not just for 2, but also for your furry friend. Yep, their units are pet-friendly; you just have to pay the additional cleaning charge. If you want, you can also rent their sleeping bags, bike rack, sat-nav, and such.
Vehicles
Alba Campers offers only one campervan type―a 2 berth, automatic camper. These compact units are suitable for exploring small, single-track roads, particularly on the Scottish Highlands. Each campervan comes with 2 front seats, one for the driver and one for the passenger. In the back, there's a comfy seating area with a table, which easily converts into a double bed. You'll be surprised that even inside this small unit there are lots of storage spaces, especially at the rear kitchen. This kitchen is accessible from the outside so you'll have a more spacious area to prepare your meals.
Insurance
Alba Campers standard insurance excess is £500, though they provide a liability reduction option at £14 per day. This one reduces their standard cover/ security deposit to £300, plus coverage for 4 tyres, windscreen damage, additional driver, and roadside assistance. Any insurance that covers tyres and windscreen is a good idea as these are things that can get damaged even if you are the best driver in the world and don't have an accident.
Reputation
Alba Campers is a popular company that offers cheap 2 berth campervans for hire. Their campervans may be small but these are perfect for 2 adults, plus their furry friend. Even if they offer cheap campervan rentals, this does not mean subpar service. They are even one of the top-rated campervan hires in Edinburg, with an almost flawless reputation. Many customers loved their fleet of economical, compact vans that are easy to pick-up and drop-off. The owners are great in terms of communication and vehicle maintenance. The only downside is that their units are only for two persons, hence may not be attractive to bigger groups.
Summary
If you're looking for a budget campervan hire in Edinburg, Alba Campers' fleet of 2 berth campers is definitely something to consider.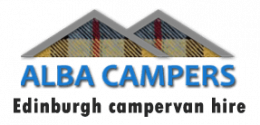 From the Agency
Based in Edinburgh we are in the ideal location to start your Scottish Campervan Rental. We always offer cheap campervan hire prices and there are no hidden costs, the price you see is the price you pay. Experience all that Scotland has to offer with Alba Campers. When you hire one of our campervans in Edinburgh you are free to explore Scotland at your own pace. When you hire a campervan with Alba Campers you will be pleased to know that we are flexible with pick up and drop of times. You can also travel unlimited miles during your campervan rental. We offer cheap campervan hire in Edinburgh. If you are looking to rent out a campervan at an affordable price then you are in the right place. Since Alba Campers started in 2017 we have always kept our prices low and our quality high. Alba Campers offers budget campervan hire in Edinburgh.
Pros
Well-known campervan hire in Edinburg
Cheap rentals
Pet-friendly
Great reputation
Cons
Suitable for 2 persons only
One campervan style
See who else rents Campervans in the same cities
Instant Price Comparison
Just Got Questions? Want a Quote direct from the company?
Fill in this form to contact the Agency direct.
Write Your Own Review
Tell the world about your experience renting from this company
Have you experienced Alba Campers?
Be the first to leave them a review and help others on their journey.