United Kingdom
Editors Review
Leicester Campers is a top-rated motorhome hire and sales located in Desford. Their modern motorhomes are perfectly designed for families and big groups up to 7 people.
About Leicester Campers
Started in 2010, Leicester Campers has grown into one of the most reliable motorhome rentals in Desford. Aside from rentals, they now offer vans for sale for those interested in owning a motorhome. The owners themselves are devoted campers, hence they regularly use their vehicles to ensure everyone a quality camping trip. Because of their passion for the outdoors, they can provide a more personal service to the renters. Likewise, the motorhomes are competitively priced even if these are high-quality units.
Fleet
All Leicester motorhomes are furnished with camping essentials and extras for a comfortable and memorable getaway. And the best part when renting from them is you get to drive a modern unit, most likely a brand new one. The oldest motorhome they have on fleet is a 2015 model.
Vehicles
2020 AUTO ROLLER 707

First on the list is the 2020 AUTO ROLLER 707, which is the company's flagship vehicle. This 7 berth motorhome is highly recommended for touring families who want comfort and style. There are rear bunks and drop down bed for the kids and front lounge bed for the adults. Even with the multiple sleeping arrangements, there's still a lot of space inside, especially for your stuff. There's even an external locker for your sports equipment and other things.
2020 ROLLER TEAM 690

Another motorhome with a capacity for 7 persons is the 2020 ROLLER TEAM 690. This unit offers a cosy dining area that also modifies into a sleeping space. There's a fixed bunk bed at the rear and another double bed at the cabover. So, if you're looking for extra space, this is a great option for big groups.
2020 RIMOR SEAL 9

The 2020 RIMOR SEAL 9 is also a 7 berth motorhome with almost the same layout as the 2020 ROLLER TEAM 690. It comes with rear bunks and cabover beds. Comparatively, it provides two dinettes in the middle. These dining areas modify into sleeping spaces at night.
2020 ROLLER TEAM 675
If you're a family of 6, consider renting the 2020 ROLLER TEAM 675. It has a practical interior layout that allows everyone to relax and enjoy while inside the motorhome. At the center, there's a dining table, a small kitchen, and a bathroom. At the rear, you can find the fixed bunk beds.
KATARAMANO 9

The KATARAMANO 9 completes the fleet of 7 berth motorhomes. This unit is also a family favourite as it features all things essentials, including 2 dining tables that easily becomes a single and double bed at night. This unit highlights its wooden finish and heaps of storage spaces for your stuff.
2015 ROLLER TEAM 675

There's another ROLLER TEAM 675 model that accommodates up to 6 persons. It has the same layout and facilities like the other unit. They only differ with the vehicle age; this one is a bit older, though still very commendable on the road.
Insurance
For the insurance, you can shoot them a message upon booking inquiry.
Reputation
Leicester Campers is a force to reckon with in terms of motorhome rentals. They are highly praised because of their personal service and fleet of modern motorhomes. Most of their customers rent out a motorhome first before buying one. In addition, you'll be renting a modern unit, mostly brand new models that cater to up to big groups.
Summary
So, if you're looking for a modern, fully-equipped motorhome for the entire family, Leicester Campers has an wide range of 6 to 7 berths for you to choose from.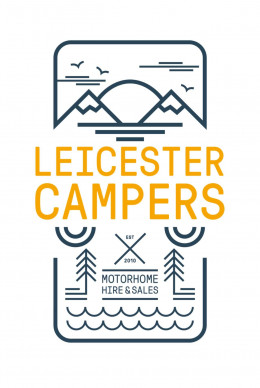 From the Agency
No word from this agency yet. Come back and see if they checked in soon.
Pros
Impressive reputation
Modern motorhomes, mostly brand new models
Recommended for big groups up to 7
Personalized service
Cons
May not be suitablel for those on a tight budget
See who else rents Campervans in the same cities
Instant Price Comparison
Just Got Questions? Want a Quote direct from the company?
Fill in this form to contact the Agency direct.
Write Your Own Review
Tell the world about your experience renting from this company
Have you experienced Leicester Campers?
Be the first to leave them a review and help others on their journey.