United Kingdom
Editors Review
Spaceships Rentals is one of the UK's most trusted and reliable campervan and motorhome rental companies. Commonly known as the Swiss army knife of campers, their vehicles are versatile and offer a great balance, not just in the UK but also in Australia and New Zealand.
About Spaceships Rentals UK Tells Us
Large and way popular, Spaceships is a commendable, go-to rental hire with a fascinating on-road community or the so-called, Space Mates. Space Mates are your local points that help you complete your journey with fewer troubles and more entertainment from local deals to DVD exchange. Even with depots in London, Edinburg, and Dublin, travelling the UK and Europe is still vast enough to get you lost or cover only the touristy spots. Hence, the local and wide community of Space Mates. Because of this close-knit community, you get bits of advice from the natives, eventually discovering some off the beaten tracks. Also, Spaceship offers one-way campervan hires between their depots, with optional evening collections and returns and secure parking area in London and on-street parking near the depots in Edinburgh and Dublin.
Fleet
The good thing, erase that, the great thing when you rent from Spaceships is you are never alone. The numerous Space Mates speckled across the UK and Europe are more than enough to make you at ease while travelling on the open roads. The Spaceships UK fleet, in particular, has the most number of options, ranging from compact campervans to spacious motorhomes. Unlike Australia and NZ branches, Spaceships UK highlights their blue VW camper cars, which is pretty much the same with the iconic orange campervans. Aside from that, they have family and luxury motorhomes. Every Spaceships campervan provides a full-size double bed that can sleep 2 adults with a maximum of 3 people if you're really close buddies! The motorhomes, on the other hand, have added sleeping capacity up to 5 or 7, which is a nice treat for bigger groups. If you are used to shifting gears while driving, then you can pick the Voyager or the VW camper. All remaining campervans and motorhomes are automatic, except for the family motorhome that has an automatic and manual option. Also, you get a free linen package with pillows, pillow sheets, bottom sheet, duvet, duvet cover and dining and cooking bundle with cutlery, plates, cups, pots, plates and more.
Vehicles
Campervans
VW Camper Car
The bold blue VW camper is also one of the top picks because of its fuel efficiency and modern features. As the most economical option on the fleet, it would come as a surprise that this brand new vehicle can provide you with more than enough comforts of home, except for the useful power supply and air conditioning. Still, this 2017-2018 Volkswagen Caddy model makes sure that you will enjoy your road trip without dripping beads of sweat through its forced air A/C. The double bed with little extra headroom compensates the exclusion of rear awning.
Delta Premium

If the above-mentioned campervans are relatively popular, well, the Delta is the most sought-after campervan. It balances out compactness and smoothness while you're out exploring the unknown. With the help of its 2017 fit out, intelligent power system, and main power hookup, there would be lesser pit stops along the way. The side awning for this one is much bigger while the rear awning also gives added sleeping space at the back. The unit is also baby-child friendly.
Voyager
The Voyager is a 4 to 5 berth with one large double bed and one smaller double bed. Based on a 2015 - 2016 Ford Transit Custom, this unit drives like a car and still equips you with essentials for a long weekend getaway. Plus, it is child/ baby capable so you won't be worrying about leaving your child. Bring them along and let them enjoy the scenic UK roads. Since there's a large side awning, all of you have the option to dine together outside. This one also provides the most headroom out of all units on the fleet.
Motorhomes
Family Motorhome
Okay, aside from campervans, Spaceships also gives a comfier and sleeker ride through their motorhome options. To start, let's have the Family motorhome built on an Adria Sun Living with a 2018 fit out. The Adria motorhomes are known for its flexibility as it is technically a 4 berth unit but can cater up to 7 people because of its practical sense of space that provides twins, doubles, and even bunk beds. The smart design of the living area features two dining tables as well as a spacious lounge area that becomes sleeping places at night. Also, the kitchen and bathroom design is ergonomic with every feature right in place. The facilities inside are not just your standard options but rather those quality fitting and fixtures.
Luxury Motorhome
An automatic Adria S70 SC unit comes with posh appointments and newer fit out. The Luxury Motorhome is the answer for fancy travellers up to 5 persons (4 adults+ 1 child). Because of the limited sleeping capacity, this will leave more space inside for everyone on-board. It is much bigger in terms of vehicle length and width but not with the internal height. Still, to cater all 5 passengers comfortably, there's the island double bed at a separate bedroom, 1 drop-down double, and 1 single positioned at the living area. The kitchen space is equipped with a sink, oven, overhead cabinets, and fridge, while the entertainment system is graced with a TV/ DVD player.
Insurance
Whether you want to risk it all or have a complete peace of mind while travelling, there's an insurance package that would suit you. If you don't want to spend another Euro, you can have the standard liability but you need to be ready with the corresponding risks that include an excess of ₤ 1500 for campervans or ₤ 2000 for motorhomes with no maximum collectible, plus any damage to windscreen cover, window, glass, tyres, roof, underbody, and tables and chairs. Quite scary, right?
Well, you can reduce your excess into something tolerable if you avail of the half cover at £10 for campervans and £15 for motorhomes to limit your excess to ₤ 750 (capped at £300) for campervans and ₤ 1000 (capped at £400) for motorhomes. However, this does not include certain physical damages to the unit as mentioned earlier. For those who want to leave their worries away and have a carefree driving, then get the All Inclusive Package for only ₤15/ day for campervans and £30/day for the motorhomes. This option will leave you with no excess, including coverage for windscreen cover, window, glass, tyres, roof, underbody, and tables and chairs but with a maximum collectible at £500 for campervans at £600 for motorhomes. These insurance options are offered for UK & Ireland travels only.
For other EU countries, including Switzerland, Norway, Serbia, and Croatia, standard liability for campervans and motorhomes are the same but you only have the All Inclusive Package at £20 for campervans and £35 for motorhomes to reduce the bond to zero with maximum collectibles of £800 for campers and £900 motorhomes.
Reputation
Spaceships campervans are known to be amazingly comfortable and very easy to drive, and many past renters can attest to that. The company is unsurprisingly popular among renters because of their nice fleet of campers that has now expanded to offering motorhomes. Their multiple depots across the UK, along with their unique 'Space Mates', make the travellers more comfortable while hitting the road. The rates could be something to consider but their reputation means that you will be spending your money wisely.
Summary
Renting out a campervan or motorhome from a reputable rental company like Spaceships can give you a 90% chance of completing your holiday with big smiles and contented hearts.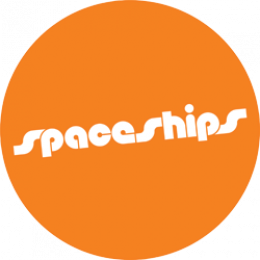 From the Agency
No word from this agency yet. Come back and see if they checked in soon.
Pros
Large rental corporation
With multiple depots in and outside the UK
Offers campervans and motorhomes
Homey 'Space Mates'
Cons
Not for bigger groups more than 7
Rates aren't the cheapest
See who else rents Campervans in the same cities
Instant Price Comparison
Just Got Questions? Want a Quote direct from the company?
Fill in this form to contact the Agency direct.
Write Your Own Review
Tell the world about your experience renting from this company
1 Review
"
Avoid Avoid Avoid

"

You're not going to get the experience you think you will. Avoid.

1

Service

1

Mechanical

1

Interior

1

Value
Spaceships UK

Brand Manager

Hi Mark,

We have not received any complaint or anything from a mark about their trip. I'm sorry to hear you feel this way. Please contact us as soon as possible to [email protected] and let us know your booking number so we can look into this for you

Many Thanks

Spaceships
1 Review
"
Very Disappointing

"

We hired a family motorhome which was supposed to be for 7 adults, but I would say this is extremely optimistic as the middle 'double bed' is so small both in length and width that it's really for short adults or children. I'm only 5 foot 9 inches but couldn't fully extend my legs. The middle single bed is very narrow but slightly longer. Also be aware that the rear top bunk has a maximum weight of only 70kgs.

We ordered the optional European Travel and Platinum Bundles (total cost of nearly £150) but felt short changed as the electrical power convertor did not work and we only received 2 duvets. Incidentally the duvets were very heavy and not suited for summer travel. Also we only received 2 tiny bottles of toilet chemicals which were never enough for a week away. We were told the chemical toilet would only need emptying about every two days but with 7 adults on board it needed daily emptying. If you have not been camping before this is a really horrible job (enough said).

The van itself was nearly brand new but was surprisingly noisy as we drove along, particularly the rattles from the tv. As for the advertised 35 miles per gallon, we only averaged about 20 to the gallon by driving up to the maximum speed limits. It may be possible to achieve more if you poodle along at much lower speeds.

Overall very disappointing especially when I raised these issues when returning the vehicle but received no apology. I recommend you check everything out before leaving as quality control seems to be an issue. Never again.

2

Service

4

Mechanical

2

Interior

2

Value
Spaceships UK

Brand Manager

Hi Mike,

Thanks for your feedback.

Our vehicles are purchased from the manufacturer as a 7 berth motorhome and it is common in motorhomes that beds can be slightly smaller than at home.

We offer a virtual tour on our website to give customers a chance to have a look round the vehicle before to get an idea of size etc.

Regarding the platinum bundle. I'm sorry to hear there was an issue with your power inverter, if you email us we can look at reimbursing this item for you.

For the toilet, this fully depends on how often you use the toilet, the average is 2 days however it can vary massively. Emptying the toilet is part of cons of having a house on wheels.

Glad to hear you liked that the van was pretty much brand new. We believe the rattle will have been from the grill tray in the oven (this is the main rattle we hear about) however you can just remove the grill tray and it doesn't rattle anymore .

Miles per gallon can vary massively, and this is what the MPG is advertised as by Fiat and Adria. We can only go by their figure.

If you have any other queries please let us know

Many thanks

Spaceships