United States
Editors Review
Undeniably a popular choice in Los Angeles RV rentals, Chill RV specializes in brand new RVs that could act as epitome of luxury RV rentals.
About Chill RV
Chill RV is a reputable RV rental you would want to entrust your hard-earned savings for a smooth and stylish road trip. Since Chill RV wants every renter to simply have a chill road trip, they offer free delivery and pick-up services right to your front door as long as you're within the LA county. But for those living in the vicinity of Orange, Ventura, San Diego, San Bernadino and Riverside, you can also have your RV delivered at your home for a reasonable fee. And there's actually no need to feel anxious if you're a first-time RV driver because you'll certainly feel confident with driving the Mercedes model through their excellent online sources like training videos and instructional manuals that are all stored in an iPad. Yes, every RV comes with an iPad for instructional purposes!
Fleet
There are only two rental options from the Chill RV range but all are fully-equipped with facilities including leather seats, stainless steel appliances, comfortable beds, cozy couch and one slide-out. Aside from that, the units already include cooking ware and kitchen supplies, as well as bedroom essentials and entertainment features like TV/ DVD and board games. But if you want a far more fancy road trip, then spend a little more for bike rack, tent, decorative lights, outdoor chair and lamp. These 25 feet long Mercedes Winnebagos run on diesel and range from 2016- 2018 models. Not only that, certain units are pet-friendly so you can bring your furry friends during your trip.
Vehicles
Model V

A 5 berth motorhome, the Model V highlights its extended U-shaped dinette and wardrobe because of the slide-out. Travellers will have an afternoon delight with the help of the footrest fitted on both sides of the dinette. The kitchen comes with a sink, gas stove, and refrigerator. On top of the kitchen sink is a nice TV that allows you to watch your fave film while munching your meal. At the rear is a double bed that isn't so private, with comfy mattress and overhead cabinets. The bathroom and vanity area is also located at the back. Further, this particular unit provides bigger capacity for the black and grey waste holding tank compared to the other model.
Model J

The Model J is also 5 berth motorhome but with 7 people seating capacity. Aside from the extra seating area, the unit provides larger exterior storage for your stuff and sport equipment. Unlike the other Winnebago, this one provides a flexible rear bed that allows you to choose either two twins or one king. Because of the versatility at the back area, the bathroom is now positioned at the side instead at the rear. The second bed location comes from the Flexsteel Fold N Tumble sleeper with a table. And for the third and last bed, it is stationed at the cab-over.
Insurance
Chill RV provides two options to get you protected. Option 1 is the standard insurance with $1,500 deductible for a minimal fee. This will cover you for up to $1 million liability and $200, 000 comprehensive and collision. Option 2 is to provide a copy of your insurance binder with a full coverage auto policy of at least $500, 000 liability and $200, 000 comprehensive and collision.
Reputation
Chill RV is one of the well-liked RV rentals in the area and their fleet of fully-furnished luxury models are downright classy and coveted. But of course, their rates are a bit pricey compared to other companies and certain extras can be another slash to your budget. Renting a luxury unit from them, however, is something you will not regret, and you can take a cue from the almost flawless feedback from previous renters. They even offer free delivery and pick-up within LA area as well as 100 free miles per night and an iPad for instructional purposes.
Summary
Accordingly, Chill RV is definitely a great choice considering the positive reviews and distinguished reputation. You just have to stack up extra money for their luxury rental units.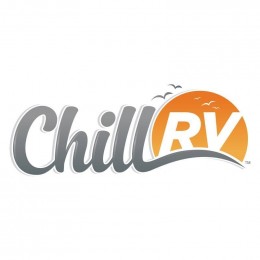 From the Agency
Our RVs and service are designed for absolute ease and simplicity. Most of our guests are first time renters and we've carefully crafted the experience with that in mind, although of course, we welcome RVers of all skill levels! In everything we do, we keep in mind that we want to provide the type of experience you will want to have again, and tell your family and friends about. That's how we've earned our reputation as the best luxury
Pros
Fully-furnished luxury models
Free delivery and pick-up within LA area
Usage of iPad for instructional purposes
Certain pet-friendly units
Cons
May be pricey compared to other companies
Not for groups more than 5 people
Easily books out
See who else rents RVs in the same cities
Instant Price Comparison
Just Got Questions? Want a Quote direct from the company?
Fill in this form to contact the Agency direct.
Write Your Own Review
Tell the world about your experience renting from this company
Have you experienced Chill RV?
Be the first to leave them a review and help others on their journey.