United States
Editors Review
Beautifully situated near the surf beaches of Huntington, Surf RV City is just the ideal treat for those wanting to have a taste of the beach vibe while travelling the scenic road.
About Surf City RV
Surf City RV gives you the charm of both worlds— the breathtaking blue vistas and the scenic lush greens. Their units are the ultimate beach cabana! Going the extra mile to provide you with a wonderful holiday, this seasoned RV rental company allows short-term and long-term rentals. And when we say short-term, it's not like other rental companies out there because they are available for 1/2 day or full day hire! They provide a local spot for parking for day use and a pre-reserved space for overnight use. In addition, there are optional airport pickup/drop off service to make rentals more convenient.
Fleet
The limited selection of class A and class C motorhomes are good for small to large groups up to 8. The Surf RV City motorhomes aren't the newest but are still kicking the open road with reliable engines and complete facilities. These are automatic gas units that are well maintained and customized. Aside from the standard facilities, you are provided with house kit that includes bed linens, blankets, towels, flashlight, clothes hangers and a lot more. And planning to travel with your four-legged pal? No worries because they allow pet for just a minimal deposit.
Vehicles
Gulf Stream Sun Voyager
A 2007 Class A RV, the Gulf Stream Voyager is 30 ft. motorhome that caters up to 4 people. The extended length and lesser sleeping capacity make this unit very spacious and cozy. Not only that, with three fitted slide-outs, your holiday is downright complete with all comforts of home. The atrium dinette comes with a drop-leaf table with two upholstered chairs and two extra folding chairs. The swivel front seats allow you to take snug breaks in between. Across the dinette is the sofa sleeper with overhead cabinets. At the rear is a semi-private bedroom featuring a queen memory foam in a walk around bed. For outdoor fun, don't worry because this one is equipped with an awning.
Coach Ella

The Coach Ella is a classic 1975 GMC that gives vintage vibes while exploring the open road. An automatic gas unit, this 27' oldie motorhome is still reliable because it has a new engine. Plus, it is stocked with essentials of a large and new RV such as fridge, stove, and microwave, inside shower, toilet, full sized bed, dinette, jack-knife sofa, generator and more! This 4 sleeper is not just a classical treat but also pet-friendly. So, if you're looking for a bright and spacious retro RV that allows you to tag along your furry friend, this one will not disappoint.
Fleethood Mac

The newest member of their fleet, the Fleethood Mac is an 8 berth RV that is loaded with essentials and even extras. This 32 ft. RV is the only Class C unit that sleeps the most number of passengers on-board. Even as the largest motorhome, this model comes with two slide-outs to give a roomier interior. This tailgate friendly unit is complete with everything you need, from dining quarters to sleeping places. And before we forget, this is the ultimate choice if you're planning to experience the Burning Man.
Insurance
The insurance options are quite limited; hence, you need to verify with the company at the time of booking.
Reputation
Surf RV City rental services are mostly satisfactory with lots of positive reviews about good customer service, well-maintained RVs, and extended road assistance. Even with only one depot, the company provide airport services to make every rental more convenient. Each motorhome is customized to feature a more home-like road trip with comfortable sleeping places, furnished galley and lots of extras.
Summary
Forego those big and impersonal RV companies and opt for a smaller and personalized rental like that of Surf RV City. This unassuming RV entity has a limited fleet to provide you with a more hands-on hire.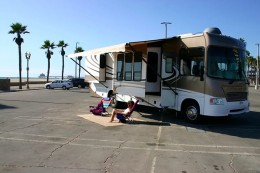 From the Agency
No word from this agency yet. Come back and see if they checked in soon.
Pros
Positive reputation
Well-maintained RVs
More personalized rentals
Cons
Sparse website
Only one depot
Limited rental units
See who else rents RVs in the same cities
Instant Price Comparison
Just Got Questions? Want a Quote direct from the company?
Fill in this form to contact the Agency direct.
Write Your Own Review
Tell the world about your experience renting from this company
Have you experienced Surf City RV?
Be the first to leave them a review and help others on their journey.