United States
Editors Review
This South San Francisco-based company is built for personal comfort and style. Trekker Vans allows you to customize your van to suit your preferences.
About Trekker Vans
A locally managed campervan hire in the San Francisco Bay Area, Trekker Vans is all about personalized rental for a cozier road trip. It is run by a duo team who is knowledgeable about the ins and outs of the rental market. They offer a range of modern vans that are engineered to keep abreast with different travellers looking for a quick weekend adventure or a month-long road trip. The company is well located near the San Francisco International Airport and are open Monday through Saturday, 9:30 am and 4:30 pm. No pets are allowed inside the Trekker Vans except for service animals.
Fleet
The Trekker fleet is stocked with high-quality, modern vans that can be customized according to your needs. Based on 6-speed automatic Ford Transit, these compact and full-sized vans drive like a car and are highly efficient. Plus, you are given free 100 miles per day and some great extras. The vehicles accommodate couples or even starting families up to 5. Though only one vehicle type, you'll be guaranteed with a newer model, 2016 or newer.
Vehicles
The Trekker Vans seat 5 and sleep up to 2 people inside. If you're planning to bring the entire family, you can rent their roof-top tent and extra 3-person tent so that all 5 can sleep. And, if you've got kids, they also have a child restraint system and booster seat for hire. Other optional items for rent include bike racks, GPS, snow chains, USB chargers and cables, and auxiliary cable. Already included with the rental are camping chairs, table, and bedding. These modern vans are suitable for those who want personal touches within the unit. Luckily, with Trekker, you have the option to alter the seating and sleeping layout to maximize space and provide extreme comfort. Each van gives you the flexibility to access the kitchen inside or outside.
Insurance
You need to provide insurance coverage from your auto provider to ensure that you are protected while on the road. If in case you can't provide your own coverage, then don't worry because the company offers insurance at a decent additional cost.
Reputation
This local campervan business has carved their own name in the industry, offering recent and high-grade campervans that are tailored for your personal needs. Unlike other campervan rentals, they take into account the preferences of different renters, hence providing customization of the interior layout. This adds up to their quality service and great location. Conveniently located near the airport, renters enjoy easier pick-up and drop-off.
Summary
Renting a Trekker van means hiring a modern unit with customizable interior layout. The company focuses on couples and small families who'd want to travel at their own pace, with their own personalized unit.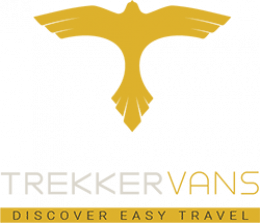 From the Agency
We are a family-run campervan rental company based in San Francisco Bay Area. Find lots more information at WWW.TREKKERVANS.COM. We include all bedding, cookware, plates, bowls, cups, chairs, table, privacy curtains, and more for free with your rental. We hope to see you for your next road trip adventure!
Pros
Modern vans
Customizable layout
Great location near the airport
Cons
One depot
Limited options
For families up 4 to 5 only
See who else rents RVs in the same cities
Instant Price Comparison
Just Got Questions? Want a Quote direct from the company?
Fill in this form to contact the Agency direct.
Write Your Own Review
Tell the world about your experience renting from this company
Have you experienced Trekker Vans?
Be the first to leave them a review and help others on their journey.