United States
Editors Review
Last Updated: 11/8/19
Go on a California adventure with a classic van from Vintage Surfari Wagons. This Costa Mesa-based rental company offers a fleet of vintage vans from the 1970s to the 2000 era.
About Vintage Surfari Wagons
If you've always wanted to cruise around California with a vintage van, then turn your dreams into reality with Vintage Surfari Wagons. Experience the van life with their well-equipped units that are meant to accommodate you and your furry pet!
The owners of this company have more than a decade of experience in handling VW bus rental services. They are located in the southern part of Los Angeles, particularly in Costa Mesa. Aside from rentals, they also provide group camping tours where you can tour around scenic spots with local guides.
Fleet
From the name itself, what you will be getting here are vintage campervans that are suitable for couples or a small group of friends. Since these are older models, don't expect an ultra-sophisticated ride with all sorts of luxury features. But don't worry because their units are pretty much remarkable even with their age, plus you've got 120 free miles per day. You can choose from their fleet of Bay Windows, Vanagons, and Eurovans, which are mostly 1970s, 80s, 90s, and 2000 age models.
Also, each camper has its own name, making your trip more personalized and even more memorable. These 2-3 berth units are equipped with cooking facilities as well as some other essentials like potable water tank, flashlight, campground directory, and local maps. You can add some extras such as sleeping bags, camping chairs, cooler, surfboard/ bike rack, among others.
Vehicles
Bay Windows

These hippie buses are the oldest units on the fleet. Still, these are first-rate vintage VW models that are perfect for those with a heart for classic adventures. Most of these units come with a pop-top roof so you get enough space inside. Plus, the large windows all around the vehicle make you appreciate the views even more. So, if you want to experience that old-school road trip, rent one of their Bay Windows.
Vanagons

If you want an upgraded version of the Bay Windows, then there's the Vanagon. These refurbished models are great on the road and are even cost-effective. Because of its features, Vanagons are more suitable for those who want to hit the road in style. Also, pop-up roofs make these units roomier and nicer.
Eurovans

Completing the vintage fleet are the Eurovans. Though these aren't totally vintage, the units range from the 2000s, which are still older than most campervans on the road. Eurovans highlight the charms of both worlds, which means you can still experience a vintage ride with some hints of modern touches like air conditioning. So if your particular about this feature, this one is perfect for you.
Insurance
To know more about the insurance options, shoot them an email. But to give you an overview, they will require a minimum security deposit amounting to $500 via credit card.
Reputation
Vintage Surfari Wagons is unlike most RV rentals in the country. They cater to specific renters, particularly those with a penchant for a classic kind of adventure. This means that what you are getting from them aren't modern motorhomes but vintage vans. Even with the age models of their vehicles, these units are still dependable on the road. The company holds a great reputation for renting out well-maintained and well-equipped campervans that are also open to your pet dogs!
Summary
Do you want to experience the van life? You can have one by renting an older yet reliable campervan from Vintage Surfari Wagons.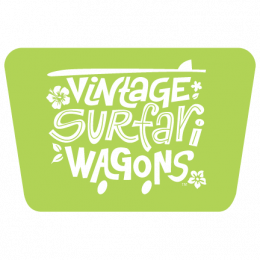 From the Agency
No word from this agency yet. Come back and see if they checked in soon.
Pros
Great reputation
Well-maintained, well-equipped units
Pet-friendly vehicles
Cons
One depot
Old models, not for fancy travellers
Only suitable for couples or small groups
See who else rents RVs in the same cities
Instant Price Comparison
Just Got Questions? Want a Quote direct from the company?
Fill in this form to contact the Agency direct.
Write Your Own Review
Tell the world about your experience renting from this company
Have you experienced Vintage Surfari Wagons?
Be the first to leave them a review and help others on their journey.