Australia
Editors Review
From campervan hires to wedding rentals to concert accommodations, Hunter Valley Kombi offers you a fleet of Volkswagen Kombi for any occasion. This local campervan hire in Newcastle grants your requests to explore the East in a laid-back yet stylish manner.
About
Located just 1.5 hours from Sydney, this small rental company got something to rent to all your special gatherings, whether it's for a wedding, a concert, or any formal event. Depending on your rental choice, the rates differ accordingly. Hence, you need to call and discuss with them to know the prices.
Fleet
They only have two camper models for rent and these are both Volkswagen Kombis that are beautifully restored to cater up to 5 passengers. However, do take note that these only sleep 2 people. In addition, they offer push bike, portable toilet, hygiene needs, and a hamper full of fresh produce. Doona, linen, pillows, CD player, and cable adapter are also provided for your convenience.
Vehicles
Beryl
Beryl is a classic VW camper with a double width rock and roll bed. It has its own 2-way, 48L fridge, sink with running water, gasmate portable cooktop, full cutlery set, crockery, and utensils. Since there's a roll out awning, a table, and some camp chairs, you can enjoy an alfresco dining during your trip.
Doti


Another rental option is Doti, which also 2 berth camper. The facilities inside the unit are pretty much the same as Beryl. It comes with a double width bed, fully-equipped kitchen, and other cooking stuff. The main difference between the two is that this one has a pop top roof, making the interior bigger and more comfy. It allows you to stand up and roam around the unit comfortably. Also, the camper only provides a 1-way fridge instead of the 2-way.
Insurance
For the standard insurance and possible reduction options, you may need to send them a message before booking.
Reputation
Hunter Valley Kombi is a small local company that focuses on VW rentals. Though they are not that popular, their fleet of campers are worth checking out. Also, because of their limited rental options, this results to a more personalized and direct service compared to large companies.
Summary
So, if you're looking for a camper that can take you to a long getaway or a weekend trip, Hunter Valley Kombi offers a nice collection of beautifully re-modeled and well-equipped VW models.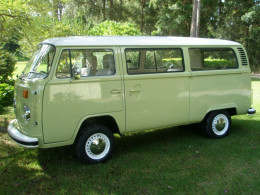 From the Agency
No word from this agency yet. Come back and see if they checked in soon.
Pros
Nicely restored VW Kombis
More personalized service
Caters to various rental services
Cons
Limited reviews
Only two campervan models
See who else rents Campervans in the same cities
Instant Price Comparison
Just Got Questions? Want a Quote direct from the company?
Fill in this form to contact the Agency direct.
Write Your Own Review
Tell the world about your experience renting from this company
Have you experienced Hunter Valley Kombi?
Be the first to leave them a review and help others on their journey.