Australia
Editors Review
**UPDATE: Keen As Campers has closed it's doors after many years of trading. They ceased operating around the end of 2016, early 2017.***
Keen As Campers operate in the budget marker and are doing a very good job of giving the market leaders a run for their money. All their vans are based on the Toyota Hiace model and all are pop-tops. This means standing room when parked and a low roof, saving fuel whilst moving – the best of both worlds.
Keen As Campers – Different Models
All models come with a microwave (and an electric kettle) and the best thing – which is quite unique – is that they have an 800W power inverter meaning that you can run your microwave whilst NOT on mains power. This is a VERY rare option and something that is quite exciting. With this inverter, you will also be able to charge your phone/tablet/laptop or any other electrical device. Basically, it is like have a mains power supply in the vehicle. Whilst using the microwave and kettle a lot will put a strain on the battery, you should be able to be on your laptop all night. But if surfing the net on your laptop all night doesn't interest you, you could always slip a DVD into the inboard dash player and watch it on the TV in the back. Very handy.
Also packed into these little babies is a proper fridge – not an esky/chilli bin/cooler box that requires ice every day. This should save you $5 a day on ice if you are concerned about your budget but most importantly you won't get food spoilage from watery ice melt. I can't stress enough how much fridges trump eskies. Another budget saver is that extra camping equipment, chairs and tables are also included in the price (deluxe camper only), however, I am going to point out here that you can expect these to be the cheapest chairs and most wobbly tables on the market. Best to ask what happens if you BREAK the chair as I have broken one of the really cheap ones simply by standing up from it. Also, you might want to check the quality of the linen and sleeping gear. And it's good to see they have paid a bit of attention to modern music issues too; the stereo can play MP3 as well as standard CD.
As I said at the beginning, Keen As Campers is trying to go toe-to-toe with the market leaders in the budget market. With rates as little as AUD$37 (at the time of writing) they are definitely very cheap – and they say that this price includes ALL insurance, unlimited KMs and 24/7 roadside assist. If you are looking for a short trip, they also claim to offer weekend hires. A very rare option in the camper world!
Keen As Campers is only a small company. It is particularly good if you are looking for campervan hire in Sydney or for camper hire from the Gold Coast as they are the only places they have depots.
Summary:
For the price, they have a great offering. The extras that are included in the price are some of the best for this price bracket. The quality of the vehicles will be a little lower as they are aimed at the budget market.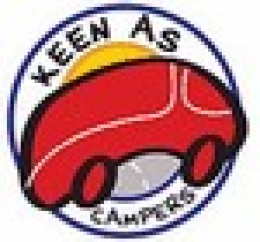 From the Agency
No word from this agency yet. Come back and see if they checked in soon.
Pros
Lots of inclusions for the price. An 800W inverter, DVD player, Fridge and more.
Flexible short dates available.
All vehicles pop tops.
Cons
Small company.
Few depots and less resources to help you if you get in to mechanical trouble.
Instant Price Comparison
Just Got Questions? Want a Quote direct from the company?
Fill in this form to contact the Agency direct.
Write Your Own Review
Tell the world about your experience renting from this company 1 Review
Shittiest van I've ever come across! Heaps of bed bugs in the mattres, the DVD didn't work, the ceiling was leaking water whenever it rained, the cutlery and draws were really dirty... for the momment that's all I can remember! Btw, the van is old as!
3

Service
3

Mechanical
1

Interior
1

Value 1 Review
We rent a Keen as campervan camper, for us a disappointing experience. The first evening we noticed that the gas stove was not working, the table had only three tabel legs and the kitchen utilities were dirty and incomplete (only one cup, used and dirty, a saucepan with rust pan without grip and dirty towels). So cooking is difficult and at camping places there are often no stoves.
The front doors of the van you can often not open with the keys (the keys are bent and almost broken). And the mattress was very poor.
The roof was leaking during rain.
Our opinion is that you can't rent a campervan like this. When you book a campervan you expect a clean and complete camper van and this is in this case not what it is.
3

Service
3

Mechanical
2

Interior
2

Value 1 Review
I would rent from Keen As Campers again.
5

Service
5

Mechanical
5

Interior
5

Value 1 Review
we had a great time with our campervan across Australia.
We did the whole lot, sdyney to cairns, darwin perth and back to sydney.
Had an awesome time in a beautiful country. No problems at all. Other guys we met with wicked jucy were jelous, our keenascamper had the lot.
thanks again for a great trip
5

Service
5

Mechanical
5

Interior
5

Value