Australia
Editors Review
This family-run business has been in the rental industry for at least 6 decades, giving them an edge among newbies. However, it seems that over the span of their business, they've created a rather unappealing reputation. Despite of the numerous negative reviews, Manly Car and Truck Rentals continues to offer campervan rentals through their 3-seat Kraken Kamper— a conventional white van adorned with huge graffiti and equipped with just the basic camping amenities. Do not expect for a fancy holiday on the road as you get what you pay for, literally. Older models on fleet, no fascinating facilities nor enticing extras, except for the free 300 km mileage daily.
Wrapping it up, rent with caution if ever you opt to spend your precious holiday with Manly Car and Truck Rentals. The unfavorable reviews can be your guide though.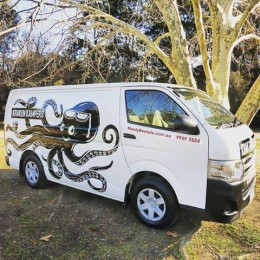 From the Agency
No word from this agency yet. Come back and see if they checked in soon.
Pros
Competitive rates
At least 6 decades of rental service
Cons
Older models on set
Outnumbered by negative reviews
Only one depot
See who else rents Campervans in the same cities
Instant Price Comparison
Just Got Questions? Want a Quote direct from the company?
Fill in this form to contact the Agency direct.
Write Your Own Review
Tell the world about your experience renting from this company
1 Review
"
Clean, but basic.

"

Glamping this is not, but it's very affordable and clean.
We got the Kraken Kamper for a week and went down the coast.
We were able to cook and sleep well.
The staff was helpful, but the processes were a bit outdated. They still take bookings on paper!

4

Service

5

Mechanical

5

Interior

5

Value
1 Review
"
DO NOT USE THE SERVICE

"

DO NOT USE THIS SERVICE. The owner is a complete jerk and doesn't know how to talk to the customers.
We were 2h late to return a car (which was completely fine) and were okay to pay for extra day. The personnel was okay but then the owner showed up and started to act like crazy, just making a young lady cry for nothing.
They use some kind of scam device to offset the fuel gauge. The car was fueled until the pump automatically stopped. We have shown him a receipt that has shown 11$ worth of fuel (which is fair for an UTE and 50 km distance travelled). We were accused of trying to fool him. Instead of admitting that something is wrong with the gauge, the owner screamed in front of everyone saying that something is "wrong with the customers brain". Instead of settling the situation, he talked and acted aggressively, made insulting grimaces and treated his customers like his enemies. His own personnel stood speechless watching him barking at a young lady like a mad dog. This company has to close or change the owner. This is a winner of "worst customer service of the world".

1

Service

1

Mechanical

1

Interior

1

Value