Australia
Editors Review
Last Updated: 11/3/19
Serenity Motorhome is an Australian family-owned and operated business. The company provides short and longterm motorhome and campervan hire to those looking to explore Australia!
About Serenity Motorhomes
Offering campervans and motorhome rentals for either short or long term, Serenity Motorhomes is a business based in country Victoria. This proudly an Australian owned and operated family business tag themselves as a luxury hire at affordable rates. Still, they are on the luxury market, hence not particularly suitable for those who are on a tight budget. One unique feature of this local company is how they provide different rental discounts―early hires, long rentals, and senior citizen renters. More than that, they also focus on personalized service.
Fleet
Serenity Motorhome has a deep selection of campervans and motorhomes for both couples, families, and groups of friends looking for a comfortable home on wheels. Their rental range consists of modern vehicles, including Mercedes, Fiat, and Renault models. The units are fitted with 2 solar panels, so you will never run out of power and are ideal for those who love comfort.
Vehicles
2 berth Serenity Elite

The 2 berth campervan is based on an automatic Mercedes Elite featuring a high-roof. This unit is just enough for two travellers with its 2 front seats, spacious living room that converts to a double bed, and a cozy kitchen. But this is unlike most campervans because it comes with a shower and toilet along with an aircon, slide-out BBQ, and wind-out awning. Also, there are storage areas which are easily accessible from the outside.
2 Berth Conquest Large

If you want a more convenient 2 berth option, then this Fiat model with a permanent rear bed will surely entice you. There's no need to spend extra minutes to prepare your sleeping area. You simply jump to the double bed at the rear wit comfy mattress and mattress topper. Plus, there are more storage areas inside this motorhome―under the bed, kitchen area, and exterior. And, you can dine in comfortably with the dinette bed, which can also alter into an extra bed, if needed!
2 Berth Conquest Lift Bed

Another 2 berth for rent is somehow unique. This modern Renault unique features a lift bed, which means you just have to push a small button and ta-da, the queen bed tops the lounge or dinette area. Not only that, there's a slide-out that allows you to enjoy alfresco dining with your partner. With both the living and sleeping area positioned at the middle, the back is allocated for the side kitchen and bathroom with vanity, shower, and toilet.
4 Berth Conquest Large

For bigger groups, you can have the 4 berth Fiat with auto transmissions and cruise control. This family motorhome is such a great unit for those who want to experience a comfy home on wheels with the entire fam. It has a separate dinette, a permanent rear bed with overhead storage, and a luton peak bed for two. The kitchen area has some upgraded features including a 3-way fridge, electric hob, griller, oven, and a sink.
5 Berth Conquest Slideout

For those travelling with 5 people, there's this ultra-modern motorhome with a very spacious interior. Thanks to its slide-out that expands the bedroom. The unit now offers three sleeping options―convertible dinette, over cabin bed, and a permanent island rear bed. This is great for those travelling with kids because of the 3 seatbelts with child restraint anchor points and a safety net at the cabover bed.
6 Berth Conquest

Lastly, here's the perfect match for big families. This 6 berth based on a Mercedes auto comes with all important facilities such as large water tank, large batteries, aircon, 240 power, and more. The kitchen area has a large bench space as well as a gas hob, electric hob, oven, and gas griller. On the other hand, the living quarters offer a separate dining area with 4 seatbelts and anchor points so you can bring your kids. All passengers have three sleeping beds to choose from―at the rear double bed, cabover double bed, and convertible dinette.
Insurance
The standard liability is $3000, which is included in the daily rate. If you want to reduce the amount, you have to pay an extra daily rate―$19 for $1400 and $28 for 400. The liability/ bond is to required via credit card authorisation.
Reputation
Modern fleet, decent rates, and personalized rentals, Serenity Motorhomes can be a great option for travellers wanting to go on an adventure, with Melbourne as a starting point. Even with only one depot in the country, this family-owned business rewards renters with discounts, making them much more affordable even if they are on the luxury side of the market. Plus, their range of motorhomes and campervans cater to different sizes, from couples to big groups up to 6.
Summary
Serenity Motorhomes have luxuries so you are assured of a smoother ride. Their campers and motorhomes are meant for travellers of different sizes, with all the things you need for a cozy holiday.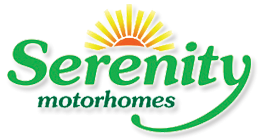 From the Agency
No word from this agency yet. Come back and see if they checked in soon.
Pros
More personalized service
Lots of discounts
Different vehicle sizes
Cons
Only one branch in an odd place
Not that popular
See who else rents Campervans in the same cities
Instant Price Comparison
Just Got Questions? Want a Quote direct from the company?
Fill in this form to contact the Agency direct.
Write Your Own Review
Tell the world about your experience renting from this company
Coolcat.C
, United Kingdom
1 Review
We hired the 2 berth Elite Fantastic service and easier to drive than the car that we have The motor home could just fit in a car parking space for angle parking Great on fuel Very comfortable Had a couple minor issues with stove and toilet but not a problem The motor home had every thing and runs on 12 volts except for the air conditioner and the microwave Had a great trip handled the windy Great Ocean Road Plenty of room Plenty of power and the before and after service was better than I thought it would be
5

Service
5

Mechanical
5

Interior
5

Value