Australia
Editors Review
Last Updated: 8/21/19
Travel Car Centre is an independently owned campervan hire company that carries 2 to 4 berth campervans and 2 berth 4WDs. Aside from their main branch in Malaga, WA, they have multiple depots across the country.
About Travel Car Centre
This rather popular campervan company in Malaga specializes in 4wd campervan hire, though they also carry some compact campervans. With depots all over the country, they can permit one-way travel. This makes it easier for travellers to choose their starting point and endpoint―from Perth to Melbourne to Sydney and more! Though their depot is located in Perth, their central booking is located in their Sydney office. They are not particularly cheap, but if you are looking to go Perth to Sydney or vice versa there is a bonus of no one-way fee which every other campervan rental company will charge you―that's a saving of at least $300AUD.
Fleet
When renting from Travel Car Centre, they provide you with neutral vehicles. This means you won't be a moving advertisement for the company. Instead, you will drive the unit like your own―without any stares from fellow road trippers. Their campervan and 4WD fleet is a mix of 2010 to 2014 and 2016 to 2019 year models. Hence, no vehicles older than 2010, which makes them a decent choice for picky renters. For those who are travelling with a toddler, they provide child seats for free, upon request. Each unit basically comes with a camping table, chairs, sleeping bags, crockery & cutlery, pots, and a 2-burner-gas stove.
Vehicles
Campervans
Hightop Campervan Cat DE

Now, let's discuss their fleet in detail, starting with this 4 berth campervan built on a 2010 to 2014 Toyota Hiace model. Also known as Cat DE, you have options for this high-roof unit, either a manual or automatic one. Even without cruise control, the unit is smooth to drive and provides you with basic yet functional comforts of a home. It has easy access to the living/ sleeping quarters on all sides―from the front, on the side, or at the rear.
Campervan Cat D

If you want an upgraded campervan for 4, then here's a nice deal. Cat D is a much newer model customized from a 2016 - 2019 Toyota Hiace. This has the same layout with the previous camper but with some great extra features such as cruise control, dual battery system, and more. And the luggage space at the rear makes it easy to hold a 40L electric coolbox.
4WDs
4×4 Hilux

On the other side of the fleet is their 4WDs that begins with the 4×4 Hilux, a 2017-2018 model that runs on diesel. This Toyota Hilux is a 5 seater that comes with a rooftop tent and a ground tent. It's the only automatic 4WD unit on offer with extra comfort and security features like airbags, central locking, and cruise control. Plus, it provides an annex for windy days or rainy nights. It's the perfect unit for an adventurous family up to 4.
4×4 Troopcarrier Outback with Roof Tent

If you're a daring couple wanting to experience an outback adventure, the Troopcarrier Outback with roof tent is the most suitable option for remote trips. And when we say daring, this includes shifting gear while driving on bumpy roads. This 5-speed manual offers seats to up to 5 persons but only sleeps 2 at the rooftop tent. But don't worry because it just takes 2 minutes to set up your sleeping area above the vehicle.
4×4 Bushcamper
The third and the last 4WD is another 2 berth unit. The 4×4 Bushcamper is also a manual unit with a cozy living and dining area. There's no need to sleep outside because you have two interior sleeping options, one from the convertible dining/ living space and the other bed on the roof area. However, it's not meant for heavy offroad adventures like the Canning Stock Route.
Insurance
The standard damage excess is $5,000 but can be reduced if you avail of their reduction options. The Safe Side at $15/day limits both bond and excess to $2,500 while the Top Cover at $30/ day reduces the excess to $500 and the bond to credit card imprint. The second option also includes 1 tyre repair/replacement, single-vehicle rollover, vehicle recovery and towing.
Reputation
With multiple branches in several Australian cities and plenty of units for hire, Travel Car Centre is a quality choice among renters. This independtly-owned business makes every rental more convenient with its amazing features. Not only that, their rental fleet is composed of units not older than 2010. These are 2010 to 2019 age models with great inclusions and even some extras.
Summary
For those planning for a long, scenic road trip from Perth to Sydney or vice versa, renting either a campervan or a 4WD from Travel Car Centre is a sound and reputable choice.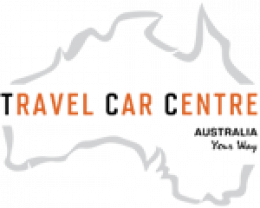 From the Agency
No word from this agency yet. Come back and see if they checked in soon.
Pros
A fleet of campervans and 4WDs
Lots of branches
No one-way fee Sydney to Perth
Cons
Minimum 14 day hire
Not particularly cheap
See who else rents Campervans in the same cities
Instant Price Comparison
Just Got Questions? Want a Quote direct from the company?
Fill in this form to contact the Agency direct.
Write Your Own Review
Tell the world about your experience renting from this company
Have you experienced Travel Car Centre?
Be the first to leave them a review and help others on their journey.