Canada
Editors Review
Calling all young and old travellers! It's time to go on an epic adventure with a cozy and compact campervan from BC Camper Van Rentals in Squamish, BC.
About BC Camper Van Rentals
Situated just outside of Vancouver, BC Camper Van Rentals is one of the few campervan companies in BC that allows rentals of 18 yrs. old drivers. So, if you're part of the younger generation, then you'll love their campervans. Even if they only have one depot, they have a free shuttle to pick you up anywhere in the Squamish areas. Not only that, they allow renters to explore not just Canada but also the USA, except California, Nevada, Washington State, and Oregon. But don't worry because they provide you with 200 free km's per day.
Fleet
BC Camper Van Rentals holds a fleet of all automatic Dodge Caravans that cater to 2 to 4 persons. These campervans are very easy to drive and park compared to most large motorhomes on the road. Conveniently, the units are well equipped with your daily necessities, including towels, linens, kitchen utensils, and cooking wares. And since you are on a road trip, camping facilities such as outdoor chairs, table, cooler, propane stove, and awning are also included.
Vehicles
Van Type #1
Gracing the fleet is the 2 berth campervan that has low km. Technically, this is just a car so you can't sleep inside because of the limited dimension. But no need to fret because there's a rooftop tent that carries up to 2 adults. Even with its compact size, this easy-driving, automatic unit has lots of storage space. Plus, you get your kitchen essentials and some extras like egg poachers, water jug, and coffee percolator.
Van Type #2
Now on their next unit for rent, there's the Van Type #2, which is also an automatic campervan. Comparatively, this one is meant for a group of 4 people, ideally all adults because of the campervan style and facilities. Inside, the middle and back areas convert into a double bed. The other sleeping option is the rooftop tent―the same as the previous campervan. Since the unit is not that big, it's still easy to drive.
Van Type #3

To complete the rental range is the 2 berth campervan that now comes with GPS. Van Type#3 is a great alternative for couples who do not want to sleep on top of their vehicle. This one offers a convertible bed inside so that there's no need to sleep outside the unit.
Insurance
For driver's under 23 years old, the company requires a daily charge of $15 and a security bond of $300 for coverage for 2 tires, windshield, and 2 small scratches. For those 25 years old and above, their standard liability comes with a $1,045 bond via credit card imprint and no coverage. If you want the same coverage as drivers under 23, then you can avail of the $15 per day liability reduction that now comes with comprehensive claims.
Reputation
BC Camper Van Rentals is surely a nice family-run business that has marked a good reputation in the RV industry in Vancouver. Their campervans are well-equipped, plus they provide some nice extras like mosquito mesh, egg poachers, and more. One good feature about them is their comfy sleeping beds. The mattresses and duvets are soft and clean. And of course, their easy-to-set-up rooftop tent deserves a mention too!
Summary
If you're looking for a nicely equipped campervan around Squamish and Vancouver area, then BC Camper Van Rentals has something for you.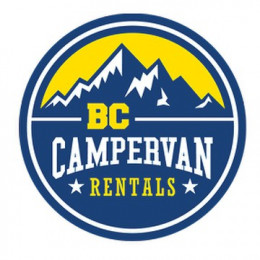 From the Agency
No word from this agency yet. Come back and see if they checked in soon.
Pros
Decently priced campervans
Free shuttle in Squamish areas
Quality service
Cons
Only for couples and small group of friends
One depot
See who else rents RVs in the same cities
Instant Price Comparison
Just Got Questions? Want a Quote direct from the company?
Fill in this form to contact the Agency direct.
Write Your Own Review
Tell the world about your experience renting from this company
Have you experienced BC Camper Van Rentals?
Be the first to leave them a review and help others on their journey.