Canada
Editors Review
Canadream is no doubt one of the most popular choices when it comes to RVing around the scenic Canadian landscapes. A part of a renowned Apollo group, this reputable RV company with 7 branches across Canada maintains a fleet of luxury motorhomes in different sizes and styles.
About CanaDream
Canadream has been in the industry since 1995 and was later acquired by a well-known RV company around the world, Apollo Leisure Group in 2017. Renting and selling a fleet of high-quality motorhomes, the company has branches in Calgary, Edmonton, Halifax, Montreal, Toronto, Vancouver, and Whitehorse. As part of a luxury group like Apollo, Canadream makes sure to keep abreast with top-notch fleet and service, hence offering free shuttle service between airport or hotels, depending on your location. Their RVs can travel around the USA, and northern areas like Alaska, Newfoundland, and Labrador for an additional fee.
Fleet
Featuring a fleet of around 800 motorhomes, you'll never run out of options with Canadream. All units are automatic, complete with cooking facilities, refrigerator, and shower and toilet. Either in gas or diesel engine, these motorhomes cater to different sizes, from couples to families. Their largest units can comfortably accommodate a group of up to 6 people. Also, they have great options for couples or starting families. Distinctively, they offer the 'Run of Fleet' option for couples or families up to four, which means that they agree to accept whichever vehicle the company gives on the day of pick-up. Additional items such as lawn chairs, bike racks, child seats, GPS, toaster, and electric heater are available for rent.
Vehicles
Maxi Travel Camper TC-A
One of the most unique campervans on the fleet is the 3 berth Maxi Travel Camper built for adventurous trips. The campervan is smoothly fitted on a new 4x4 truck model, giving a more sturdy unit features. Just like most campers, this one is fully equipped with all you need. The interior design spells out practicality with a hint of comfortability. The main sleeping area is perfect for two, with plenty of headroom to move around. The extra passenger can retire on the dinette bed in the living room. Both sides of the overcab have windows for cool ventilation at night. Plus, there's an exterior shower for extra convenience.
Maxi Motorhome MH-A
For those picky travellers needing luxury space, this Class C Maxi is the perfect answer. At 28' with up to 7' high ceiling, it comfortably sleeps a family of six, four adults and 2 children. Inside, you will enjoy cooking in the functional kitchen with large fridge, stove, microwave, oven and storage cabinets. The cab-over area allows you to choose over two or three single beds or one queen size. If you want a private space, you can opt for the rear queen or the dinette bed.
Midi Motorhome MH-B
Slightly smaller but still sleeps 6, the Midi Motorhome is fitting for big groups. Its compact layout and elegant finishings provide accommodation for 4 adults and 2 children. The functionality of the kitchen gives way for essentials like a spacious pantry, large fridge, oven stove, and lots of overhead cabinets. Plus, the cab-over area comes with two single beds, ideal for the 2 kids.
Super Van Camper SVC
The ideal option for 2 adults and 2 children, the Class B Super Van Camper has all the features for couples and small families on a touring holiday. Featuring one full wall slide, the interior becomes more spacious and complete with all the essential facilities, from the kitchen to the bathroom. Sleeping options are at the permanent rear bed and convertible dinette. The bathroom located at the back is nicely furnished with a stand-up shower and flushable toilet.
Deluxe Van Camper DVC
To complete the rental fleet is this 2 berth Deluxe Van Camper. Suitable for couples looking for a spacious unit, this economical camper drives like a car but furnishes all the appointments of a big campervan. As part of their latest addition, you'll be happy with the premium quality, as well as the functional design of the camper. The kitchen is equipped with two-burner stove, sink, and microwave, while the private rear bed comes with a comfy foam mattress and overhead cabinets.
Insurance
Depending on your age, deposit ranges from $750.00 to $1500.00 via credit card, which will be required at time vehicle pick-up. This amount corresponds to the collision and comprehensive insurance deductibles offered by the company. Make sure to read the fine print before getting the keys. Also, do take note that Canadream applies a $100 administration fee per incident.
Reputation
As one of the biggest RV rentals and sales in Canada, Canadream can give you a good run for your money or even more. They have plenty of RVs for rent and sale and 7 convenient branches across Canada. Their good reputation extends to their good rental perks that include one-way rentals between their depots and quality service.
Summary
With an extensive fleet of rental options and plenty of depots, Canadream is a decent and convenient RV rental company for a nice holiday.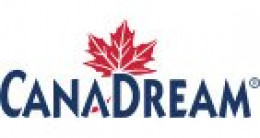 From the Agency
No word from this agency yet. Come back and see if they checked in soon.
Pros
Seven branches in Canada
Newer fleet
Luxury living on wheels
One-way rentals
Cons
Could be pricier
Not meant for budget backpackers
See who else rents RVs in the same cities
Instant Price Comparison
Just Got Questions? Want a Quote direct from the company?
Fill in this form to contact the Agency direct.
Write Your Own Review
Tell the world about your experience renting from this company
T. Lagerberg
, Netherlands
1 Review
"
Very bad service!

"

When the RV breaks were defected Canadream did not investigate repair options and did not offer any help to find alternate solutions. We were completely on our own (with 2 kids, 2 and 1 years old). In the end Canadream only partly compensated the damages. Payout only after more than 3 month.
Never again Canadream

1

Service

1

Mechanical

3

Interior

1

Value
1 Review
"
Canada Dreams resolves issue.

"

My post from a month ago indicated issues that I encountered on the return of the rental. Fuel issue. Canada Dreams Halifax office resolved the issue for us and once again we are Happy Campers. Thank you Willie.

5

Service

5

Mechanical

5

Interior

5

Value
1 Review
"
DO NOT RENT WITH THEM!

"

Will NEVER rent again from them, beware of your money and look to rent elsewhere, their damage policy and conduct is below ridiculous.

they do not maintain their vehicles properly and then expect you to carry the damage costs.

we had a driver's side mirror fall off during parking with no one touching it, simply fell off as-is, did not brake and all parts where returned, yet they charged us over $450!!! did not provide any documentation to explain what was wrong and did not take responsibility over their fault, there was no accident or 3rd party involved at all.

nevertheless, their response came long after the 60 days promise (where they hold $750) and only after i asked i got the response and the credit for the remaining balance.

not to mention the manager's response is a 3rd grade level response not providing any information just playing like a broken record the things i've already heard.

bottom line - DO NOT RENT FROM THEM!!

5

Service

1

Mechanical

3

Interior

3

Value

Brand Manager

Good morning Gilad,

Our terms and conditions are in line with other RV rental companies in Canada and the insurance document Guests sign at pick up (which is available on our website and which Guests confirm they have read and accepted when they do their online check-in) clearly lays out the charges for various incidents. We pride ourselves on being transparent with Guests and strongly recommend that they do take the time to read everything carefully.

The comments you made regarding the maintenance of our fleet are inaccurate. On average, our Guest fleet is serviced every 16 days, and subject to a rigorous 119-point inspection before and after every Guest use. We over-service to ensure our Guest satisfaction and on-road reliability.

Years of experience renting RVs to visitors around the world has shown that side mirrors don't simply fall off without being touched – when they do fall off it is a result of being knocked against something. I can see in your booking notes that our technician attempted to reconnect the mirror that was damaged but was unable to secure it back in place and for this reason it needed to be replaced.

In the event of an incident where proof of damage is not provided (example: a photo showing what caused your mirror to become loose) we are required under Canadian law to hold your deposit for a minimum of two months, allowing sufficient time for a third party claim to be made. Sometime this process does take a little bit longer as we wait on repair invoices to close the incident file. I am happy to see your file has been closed and that you have been refunded, minus the cost to replace the damaged mirror.

We are sorry this incident has resulted in your one-star review and an indication you will never use us again. We are happy to know that you did enjoy your vacation as is evidenced by the Good review you gave us at drop-off prior to us asking for payment for the damage. Thank you for being our Guests.
V. Aspinall
, South Africa
1 Review
"
Road trip in the Maritimes

"

We're currently on a 2-week road trip through the Maritimes with 3 other couples. We picked up our 4 RVs in Elmsdale outside Halifax. The staff made very sure we understand everything, including all the penalties.

The 2019 24' RV (built by Forest River) is an excellent unit, with all the latest technology. Unfortunately Canadream kit them out with the absolute minimum. No levelling steps (chocks) or level gauges. Also no remote for the TV, no milk jug or sugar pot, etc.

When we got to our first stop in Lunenburg, we discovered that our privacy curtain was nowhere in our RV. I called the office the next morning first thing, and spoke to Holly. She promised to find out if there is a replacement one and to call back, but I never heard from her again. It's impossible to be inside an RV in the evenings with no privacy curtain, so we made a plan with a table cloth...

3

Service

4

Mechanical

4

Interior

4

Value