Canada
Editors Review
A campervan rental in Calgary, Cozy Campers puts on hire their bright, blue campervans that fit 2 to 3 persons.
About Cozy Campers
Cozy Campers is all about cozy home on wheels. Their depot location is quite vague but they are based in Calgary, which means closer to the ever-beautiful Banff National Park. One of the perks of renting a unit from them is that you get a free Banff park pass, so you just pay for the other passes and permits. The Cozy Camper team isn't that large, hence only offering one campervan type. On the brighter side, this allows them to offer a unique and more personalized camping experience around Calgary.
Fleet
The Cozy Campers is all about their 2-3 berth model built on a 2005 Dodge Sprinter 3500. Their campervans are not hard to miss―brightly-colored, blue vans that are like normal vans, well, except for the company name on its exterior. Even with the older age model, these diesel-based campervans are relatively good, with lower mileage. Included in your rental are pillows, linens, kitchenware, bbq lighter, LED lanterns, and more.
Vehicles
Spruce Caboose
The 2-3 berth Spruce Caboose is more spacious than a Sedan. But even with its quite larger dimension, it easily fits into standard parking spaces. It has three seat belts, which means two people can sit comfortably in the front seats, with a possibility of an extra child in the removable back seat. Upon entering, you'll see the wooden interiors surrounded by well-maintained amenities. The kitchen area has a sink, portable two burner stove, and storage areas. The room at the back is for the queen-size bed that also converts into a spacious lounge. To add comfort while onboard, the roof is higher than a standard car.
Insurance
Get to know more about the insurance coverage and options by sending them an email.
Reputation
Cozy Campervans is a small campervan hire business in Calgary, with one campervan style―a vividly-hued van that sleeps two to three persons. Despite having only a lone campervan rental option, they have created their own name in the rental industry. Their traditional campervans are older models yet still rock the roads with their easy-to-use features. Plus, these can fit into most parking spaces. The campervans are loaded with everything you need and more, from the large comfy bed to the small kitchen area to the outdoor shower hose.
Summary
Experience a cozy and cabin-inspired adventure with Cozy Campers' brightly-colored vans that are suitable for couples and small families up to 3.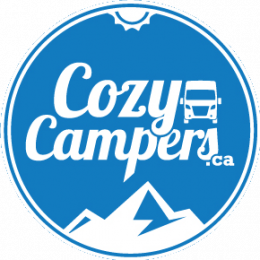 From the Agency
No word from this agency yet. Come back and see if they checked in soon.
Pros
Brightly-colored vehicles
Good for couples and starting families
Well-designed campervan interior
Cons
Not meant for big groups
Vague depot location
Older campervan model
See who else rents RVs in the same cities
Instant Price Comparison
Just Got Questions? Want a Quote direct from the company?
Fill in this form to contact the Agency direct.
Write Your Own Review
Tell the world about your experience renting from this company
Have you experienced Cozy Campers?
Be the first to leave them a review and help others on their journey.