Canada
Editors Review
Go camping in Vancouver Island with GoCampers' fully customized, 2 berth campervans. Know more about this local company near Victoria International Airport that offers pet-friendly hires on a budget.
About GoCampers
Nestled minutes away from the airport, GoCampers can easily take you to your much-anticipated island adventure. From the Victoria International Airport, go straight to their depot and pick up your well-stocked campervan. As a local rental business, the owners are very hands-on with every hire, giving each renter great tips and road itineraries. And if you can't leave your adorable furry friend in your home, then you are lucky because they permit well-behaved dogs inside their unit. Just let them know ahead of time.
Fleet
All GoCampers campervans are suited for wandering around Vancouver Island and its beautiful landscapes. These units are designed for a smoother and efficient ride. Because of the compact vehicle dimension, which is similar to most cars, these campervans are very easy to drive and park. Plus, no need for RV hookups! As of this writing, they only have one campervan style―2 berth, white-washed vans with amazing bear artwork.
Vehicles
Get ready with a van that has everything you need―a comfy sleeping area, rear kitchenette, camping chairs, and table. The rear kitchen is something to look forward to if you love cooking. You are provided with a two burner gas stove, propane, powered sink, cooler, cooking pans, utensils, teapot, and more! And for your sleeping needs, you've got a full queen-sized bed, pillows, sheets, and duvet. There are also blackout blinds in each window for added privacy.
Insurance
For your convenience, each rental is equipped with basic insurance, though renter is still encouraged to provide their own for ultimate security and comfort while travelling. Contact them during booking for the insurance options.
Reputation
GoCampers takes pride with their fully-furnished campervans and personalized service. They have maintained a great reputation over the years, going the extra mile to give quality service to renters. Being a local company, they can provide more in-depth and personal assistance compared to bigger, national rental businesses. Even with one depot and one campervan style that fits only 2, this reliable rental company takes you to the scenic landscapes with ease. Plus, they allow your small furry friend inside the campervan so no need to leave your pet at home.
Summary
GoCampers is a reliable local campervan hire in Victoria that charters their 2 berth, well-stocked campervans to travellers needing a cozy, compact road trip.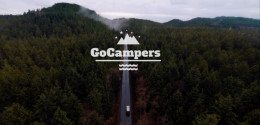 From the Agency
No word from this agency yet. Come back and see if they checked in soon.
Pros
Fully-customized and stocked campervans
Great service
Pet-friendly units
Convenient location
Cons
Only one depot
Limited campervan choices, one campervan style
Units only sleep up to 2 persons
See who else rents RVs in the same cities
Instant Price Comparison
Just Got Questions? Want a Quote direct from the company?
Fill in this form to contact the Agency direct.
Write Your Own Review
Tell the world about your experience renting from this company
Have you experienced GoCampers?
Be the first to leave them a review and help others on their journey.