Canada
Editors Review
Save money through Island Motorhome's competitively priced 4 berth motorhome. This family-run rental business in Vancouver Island centers their service on flexible pick up and drop off times.
About Island Motorhome Rental
Island Motorhome Rental is a family-owned rental business in Vancouver Island, with only one motorhome for hire. Comparatively, they are one of the few RV companies that offer pick up from Nanaimor Ferry. This means that you can start your adventure from Vancouver or mainland BC. Flexibility is their main goal as they can assist renters beyond the normal office hours. Just make sure to arrange with them ahead of time. With their campsite setup and hookup, they can deliver the motorhome to campsites near Port Alberni for a minimal fee. You can also pick up the unit from their depot in Port Alberni, Central Vancouver Island.
Fleet
Sporting only one motorhome option, their rental fleet accommodates to couples or small families. In particular, their Class A RV is an older model but still works well on the road. This motorhome is very easy to drive, though parking in standard spots can be a challenge because of the length. Their RV is in good condition, with low mileage under 60,000km. Plus, you get free 125km/day! If you want, you can rent other extras to make your trip more convenient .
Vehicles
Coachmen Mirada
The 2007 Coachmen Mirada is the one and only motorhome for hire. This Class A is a spacious 4 berth motorhome even without slides. The living room features the sofa bed and swivel chair while the kitchen is well-equipped with a microwave, refrigerator, overhead cabinet, dinette, and more. The bathroom is complete with a shower, sink, and toilet. At the back is the large sleeping room with a queen bed. You can also request to equip your unit with 2 televisions and basic Satelite TV if you want onboard entertainment.
Insurance
The company provides insurance with deductible amounting to $1,000 for collision, $500 for glass replacement, and $200 for gas/ propane refill. The total amount is $1,700, which is also the total deposit upon vehicle pick up.
Reputation
Island Motorhome Rentals is all about personalized service through flexible schedules and hands-on rentals. They only have one RV for rent, which means they can focus on one rental only per day―no possible overlapping of service. Not only that, their rates are decently priced.
Summary
Go on a budget road trip with Island Motorhome's Class A motorhome that caters to a family of 4.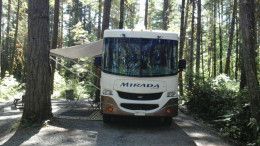 From the Agency
No word from this agency yet. Come back and see if they checked in soon.
Pros
Low mileage motorhome
Competitive prices
More personalized service
Cons
Only one RV type for rent
Older motorhome model
Accommodates up to 4 persons only
See who else rents RVs in the same cities
Instant Price Comparison
Just Got Questions? Want a Quote direct from the company?
Fill in this form to contact the Agency direct.
Write Your Own Review
Tell the world about your experience renting from this company
Have you experienced Island Motorhome Rental?
Be the first to leave them a review and help others on their journey.