Canada
Editors Review
Experience a modern-rustic holiday from Karma Campervans. This small rental business in Balzac is certainly a great option for couples or two friends looking for an affordable adventure in Western Canada.
About Karma Campervans
Founded to provide affordable and comfortable campervan hire in Canada, Karma Campervans might just be the best good karma of your life. Recently, they offer fully automated reservation as well as pick up and drop off, which means more efficient and smooth holiday. They are conveniently located in Balzac, Alberta, which is the gateway to the breathtaking Canadian Rocky Mountains. Karma Campervans is known for their well-designed campervans that are also pet-friendly. Yep, pets are welcome! Also, rentals already include 200 km per day, so another nice feature, whether you are longing for a weekend getaway or an extended holiday vacation.
Fleet
The Karma campervans are the latest Ford Transit models, which are custom-manufactured for two people. These brand new vans are a breeze to drive, allowing you to explore beautiful tourists attractions such as Lake Louise, Banff, and other camping spots. These aren't your usual, big motorhomes. Instead, these are beautifully-converted vans with a modern and rustic vibe. All their campervans are the same, except for their Karma 1, which has no rear and sliding door windows. They have Karma models in black and in white.
Vehicles
These 'modern-rustic rooms on wheels', as nicknamed by the company, are highly praised because of their awesome interior design that exudes cozy vibes. The Karma campervans are 2018 Ford Transit with a high roof, which means suitable to even taller campers. Keeping the units cozy are the built-in Espar heaters. Also, the comfy bed and privacy shades give that needed comfort and exclusive space for two. And for your stuff, you actually don't need to worry because this compact campervan offers lots of storage for your clothes, gear, and food!
Insurance
They have partnered with a 3rd party insurance provider to make your trip safer and secured. This coverage already includes collision, comprehensive, and third party liability up to $1million dollars. For the deductible, it amounts to $5,000. Do take note that the basic insurance coverage does not include windshield replacement.
Reputation
Karma campervans are noted to be very easy to drive. Plus, the gas mileage for these brand new units is great! As a small business in Calgary, you can expect for a more customized campervan that will surely give you that cozy, tiny home on wheels. They have limited campervan style and these vehicles only lodge up to 2 persons. So for large families and group of friends, this might be a disappointment. Still, they've got a great reputation among couples or two friends eyeing for a functional and affordable road trip. The owners are accommodating, ensuring that every rental is given quality service, hence making them more favored in terms of rental in Balzac, Alberta.
Summary
For a modern-rustic adventure, you'll not be disappointed with Karma's 2 berth campervans. These will give you a refreshingly, stress-free holiday on the west.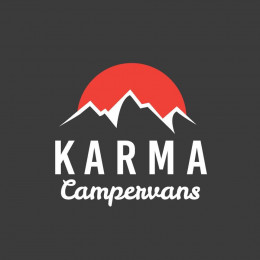 From the Agency
No word from this agency yet. Come back and see if they checked in soon.
Pros
Well-designed interiors
Modern and cozy campervans
Impressive reputation
Competitive rates
Cons
Cater to up to 2 persons
One depot
Limited campervan style
See who else rents RVs in the same cities
Instant Price Comparison
Just Got Questions? Want a Quote direct from the company?
Fill in this form to contact the Agency direct.
Write Your Own Review
Tell the world about your experience renting from this company
Have you experienced Karma Campervans?
Be the first to leave them a review and help others on their journey.