Canada
Editors Review
Pick either a CLass B or CLass C RV from Leblanc Motorhome Rental and tour around Quebec, Canada, and the United States together with your family and friends.
About Leblanc Motorhome Rental
Established in 1996, Leblanc Motorhome Rental is one of the oldest RV companies in Montreal. Their extensive experience in RVing has helped them expand their rental range and RV services. Aside from rentals, you can also invest in a pre-owned vehicle from them or take advantage of their parts and service. This family-friendly RV business is located in Laval, Montreal.
Fleet
Choose among the Class B and Class C motorhomes that shelter groups of different sizes, from 2 to 6 persons. Geared with 100 km per day, their fleet can drive you through Quebec, Canada, and the USA. Catering couples and families up to 6, these family-friendly RVs have all the facilities you need for a comfy home on wheels.
Vehicles
B21-22

Welcoming you to the Leblanc fleet is the B21-22 diesel motorhomes, which are ideal for long road trips. Because of its dimension, these Chassis Dodge Sprinters are easy to park. It leaves enough room for two persons. Enjoy the small yet fully-equipped kitchen with microwave oven, grill cooktop, sink, and other cooking essentials. For your entertainment, you have a 19" LCD TV and stereo.
C22-25

The 22-25' RVs are 5-berth, Chassis Ford models with all the basic amenities of a family motorhome. Upon entry, you will take notice of the small kitchen on the right. It has a cabover bed, double bed, and a dinette bed. And at the rear, beside the double bed, is the bathroom area with a shower and toilet. No other frills inside but more on comfort.
C24 D

If you're a family of 5 who wants the style and fuel savings of a Class B motorhome, then there's the C24, a diesel RV featuring a Chassis Dodge Sprinter. This automatic unit is actually more spacious inside because of the fitted slide-out at the dinette bed. The large living area allows you to dine and relax in comfort.
C26

Another Class C motorhome that accommodates up to 5 persons is this 26' RV. This is ideal for those who want to have a private bedroom for two and a big living room. Even with no slide-out, this unit is still spacious because of its extended length. Plus, it comes with all home essentials like kitchen, bathroom, dinette, and storage.
C28-30

For bigger groups up to 6, there's the C28-30 that also comes with a private bedroom but larger. The layout is pretty the same as the previously noted motorhome, the C26, with dinette bed, cabover area, kitchen, and bathroom. In comparison, this now provides an extra sleeping area at the sofa that also converts into a single bed.
Illusion

For 2 persons wanting a compact yet versatile campervan, you can have this sassy, red converted van. Because of its size, it's very easy to drive this car and is perfect for long road trips. It's easy to park too. Its pop-up roof gives extra space for stretching or standing inside the unit.
Insurance
For U.S. insurance, it amounts to $300 per rental. There's also the CDW insurance deductible either at $1500 or $3000. Contact them for more info about the insurance coverage and other options.
Reputation
Leblanc Motorhome Rental has been in the RV industry for over two decades, serving Montreal through their fleet of Class B and Class C motorhomes. Unfortunately, despite the extensive RV experience, their reputation is quite unsteady. But up to the present time, they offer family-friendly motorhomes at affordable rates. Though not the newest models, these are still good on the road.
Summary
Leblanc Motorhome Rental offers their Class B and Class C motorhomes for an affordable way to tour around Quebec, Canada, and the USA.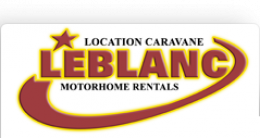 From the Agency
No word from this agency yet. Come back and see if they checked in soon.
Pros
Plenty of motorhome options
Family-friendly RVs
Over two decades of experience
Cons
Few negative reviews
One depot location
See who else rents RVs in the same cities
Instant Price Comparison
Just Got Questions? Want a Quote direct from the company?
Fill in this form to contact the Agency direct.
Write Your Own Review
Tell the world about your experience renting from this company
Have you experienced Leblanc Motorhome Rental?
Be the first to leave them a review and help others on their journey.