Canada
Editors Review
Established in 1967, Meridian RV is one of the long-running RV companies in Canada with over 50 years of RV expertise. Their rental department is relatively new, with plenty of choices on hand, ranging from motorhomes to travel trailers.
About Meridian RV
Meridian RV started with service, parts, repairs, parts, and manufacturing but later ventured into sales and rentals after many decades. The rental department is a recent addition to the family, which was welcomed in 2016, offering an extensive range of motorhomes as well as travel trailers. Being in the RV industry for many years, the company has now two branches, one in Port Coquitlam and the other in 100 Mile House. These depots are well positioned, and you will never miss them because of their blue roof. However, only the Port Coquitlam shelters RVs for rent.
Fleet
Meridian's rental fleet is a mix of motorhomes and travel trailers. Majorly packed with Class C units, there are different sizes of this RV style, from small to XL. There are also Class A and Class B units for those looking for smaller or bigger accommodation. To keep up with the competition, the company makes sure that more than half of their fleet are new models, hence the units are mostly 2017 to 2018 units. Plus, you'll get a great deal of savings with their specials and discounts. Not only that, all RVs are furnished with generators, backup cameras, TVs and power awnings for free to make your trip more worthwhile.
Vehicles
Class B
Welcoming the Meridian fleet is this 2 berth Class B with automatic transmission. The unit comes either with slide or none. Since this is a small motorhome, couples can fit in easily inside, with the area at the back allocated for the rear bed and bathroom. There's a walk-through going to the living space so that you can conveniently retire after hours of driving.
Class C Medium
A step-up Class C, with or without a slide, now comes with bigger interior space. Because of the added length, the dining area is slightly bigger, catering the entire family. It sleeps four―two at the overhead bed and two at the rear bed. The kitchen is placed across the dinette and wardrobe, while the bathroom is at the back.
Class C Large
With one slide-out, the Class C Large makes way for a group of 5. The back area is designed for the rear bed and full bathroom. Compared to the smaller units, this one provides a sofa for utter comfort, though this does not convert into a sleeping bed. Still, you can choose other sleeping options like the single dinette bed, double rear bed, and double cab-over bed.
Class C XL
As the biggest Class C unit, the XL is the best option for those wanting sheer space and no limitations at all. This is still a 5 berth RV, with a fitted slide, so you'll get all the comfort you need while onboard. The extra length paves way for the entire back area to be the private bedroom with large bed and wardrobe. The L-shaped kitchen is very spacious, with oven, 3 or 4 hobs stove, microwave, fridge, and more.
Class A
The one and only Class A option for drivers who need scenic road views while on the road, the large RV provides 2 to 3 equally spacious slide-outs. Surprisingly, the maximum capacity of the unit is only up 4 people, which means everyone will have the time of their lives while traveling. The bathroom with toilet and shower is very roomy, while both dinette and sofa convert into sleeping beds at night.
Insurance
All rentals already include basic insurance premium, featuring a $7, 500 insurance deductible per occurrence. The amount is tantamount to the security deposit, which is required at the time of pick-up. You have the option to lower the insurance deductible/ security deposit by availing the Limited Risk 'CDR' Plan at $25/day. By paying the additional amount, the deductible will now be $1,500.
Reputation
Meridian RV has been in the RV industry for more than 5 decades, and they have ventured all RV services, from sales to rental and parts to resources. Their extensive experience gives them an edge among newbie RV dealers still making a name in the business. In particular, their rental is a new addition yet amazes customers because of their fleet of high quality and modern RVs of different types and sizes.
Summary
An RV dealer with a name in the industry, renting a unit from Meridian RV is a good choice. Not only will you be given a top-notch, recent motorhome or travel trailer, but you'll also enjoy a high level of service.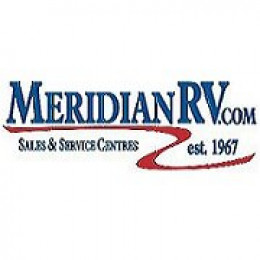 From the Agency
No word from this agency yet. Come back and see if they checked in soon.
Pros
Recent fleet
Diverse rental range
Great service
More than 5 decades of experience
Cons
May not be the cheapest
Not meant for groups more than 5
See who else rents RVs in the same cities
Instant Price Comparison
Just Got Questions? Want a Quote direct from the company?
Fill in this form to contact the Agency direct.
Write Your Own Review
Tell the world about your experience renting from this company
Have you experienced Meridian RV?
Be the first to leave them a review and help others on their journey.