Canada
Editors Review
Targeting small families, Okanagan RV Rentals has one motorhome for hire and plenty of trailers for rent. These RVs are nicely stocked with the essentials for a cozy family road trip.
About
Okanagan RV Rentals is an RV rental based in West Kelowna, offering motorhomes and trailers to families. With families as their target market, this allows them to focus on friendlier service. Aside from rentals, they also have sales and storage. Renting a unit from them includes on-site delivery and set-up. Aside from rentals, this RV company also provides sales, storage, and services.
Fleet
Delving into their motorhome hire, Okanagan RV Rentals has only one motorhome for rent―a Class C motorhome. But aside from their one and only motorhome, they have other rental options―their travel trailers of different sizes. Moving back to their motorhome rental, this compact RV is meant for small families. To make your rental more convenient, you can include in your rental some bedding, towels, BBQ, cooler, bicycles, and generator.
Vehicle
2012 C 24 Four Winds
Styled with one slide-out, this 24' motorhome is a compact RV that houses up to 5 people. Featuring a keyless entry, backup camera, valve stem extender, driving this unit is very convenient. The motorhome isn't that old―just a 2012/ 2013 unit model that comes with standard features, including a fully-stocked kitchen with 3-burner range with oven, double-door refrigerator, and microwave oven. Aside from the interior facilities, you'll appreciate the exterior amenities including the outside kitchen and awning. Just note that TV/ DVD is not included in the rental but can be rented out.
Insurance
For the insurance coverage and options, you can inquire with the company online.
Reputation
Okanagan RV Rentals' reputation is a mix of good and bad reviews. Offering only one motorhome and heaps of trailers for rent, there have been issues about security deposit as well as not properly maintained units. Despite the few negative reviews, they continue to rent out their RVs to small families wanting to explore beautiful landscapes of Canada.
Summary
Okanagan RV Rentals hires out their compact motorhome and travel trailers at decent rates. Even with only one motorhome for hire, they are still in the market because of their other services.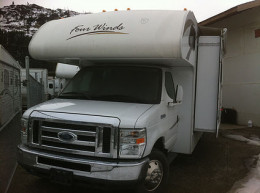 From the Agency
No word from this agency yet. Come back and see if they checked in soon.
Pros
Nicely stocked RVs
Good for small families
On-site delivery and set-up
Cons
Only one motorhome for hire, lots of travel trailers
Concerns about security deposit and vehicle maintenance
Mixed reputation
See who else rents RVs in the same cities
Instant Price Comparison
Just Got Questions? Want a Quote direct from the company?
Fill in this form to contact the Agency direct.
Write Your Own Review
Tell the world about your experience renting from this company
Have you experienced Okanagan RV Centre?
Be the first to leave them a review and help others on their journey.