Canada
Editors Review
Travelling to Kelowna? Hire one of the family-friendly motorhomes of RVR Kelowna and enjoy the outdoors in comfort and simplicity.
About RVR Kelowna
There's a small RV rental business in Kelowna that can take families into a simple yet gratifying road trip. RVR Kelowna is a locally owned and operated company that provides friendly rentals. They can allow you to park your personal vehicle at their depot, though parking can be limited. Plus, you are permitted to take your rented vehicle to the USA. Just make sure to inform them ahead for arrangements. Their rental rates are competitive too, with the inclusion of 150km per day.
Fleet
RVR Kelowna offers a fleet full of all Class C motorhomes. The RVs aren't the oldest nor the newest. These range from 2004 and newer models. Although the RVs already have plenty of miles, these are still in excellent shape and clean. Aside from the basic facilities inside each unit, you can rent out some extra such as lawn chairs, BBQs, and camp stoves. They also have a decent range of travel trailers to choose from.
Vehicles
Small Class C Motorhome

For small families up to 4, the Small Motorhome is a great choice. It's a compact yet functional RV you can easily drive and park in standard spaces. The dining area at the rear alters into a double bed at night. There's a small kitchen area near the door.
Mid Class C Motorhome

The Midi Motorhome features all the comforts of a standard family motorhome―permanent double bed, well-stocked kitchen, dining area, and bathroom. In addition, this one got a small, extra chair you can use after a long day of driving.
Large Class C Motorhome

For bigger groups or those who just want extra space, there's an option for you too. The Large Motorhome is quite spacious because of the slide-out. The living/ dining area is furnished with a sofa sleeper and a dinette bed. The rear double bed is much roomier compared to the other two Class C RVs.
Luxury Class B Motorhome

If you and your partner just want to drive a car-like campervan, then pick the 22' Mercedes Pleasure-Way Plateau TS. To save space, the rear couch, together with the two chairs, transforms into a double bed. Even if this is a small RV, you still get the basic comforts of a home, including a kitchen, fridge, bathroom, and cabinets. As the only Class B, you gotta act fast if you want to rent this model.
Insurance
For BC residents with coverage from Road Star or Road Slide Plus, there's no need to worry about the insurance. Just present your proof of insurance and other needed info so that you'll have rental insurance up to 30 days. All other BC residents are required to pay $10 per day and non-BC residents for $20 per day for the insurance.
Reputation
The owners of RVR Kelowna are commended for being friendly and communicative all throughout. Even if their business is comparatively smaller than large RV dealers, they still give impressive service. One downside, however, is their fleet. These are not the latest units and some have noted about maintenance issues. But as a whole, the motorhomes are still in good condition with everything you need. Their location
Summary
Rent a Class B or Class C RV from RVR Kelowna and explore the outdoors with your family and friends.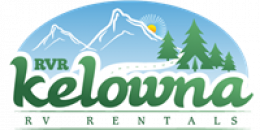 From the Agency
No word from this agency yet. Come back and see if they checked in soon.
Pros
Family-friendly units
Competitive rates
Cons
Only one depot
Not the newest models
See who else rents RVs in the same cities
Instant Price Comparison
Just Got Questions? Want a Quote direct from the company?
Fill in this form to contact the Agency direct.
Write Your Own Review
Tell the world about your experience renting from this company
Have you experienced RVR Kelowna?
Be the first to leave them a review and help others on their journey.