Canada
Editors Review
Stratford RV Centre is a well-established RV company in Southern Ontario, with extensive RV services―from sales to rentals and more.
About
In 1986, Stratford RV started as a company selling RVs. And after more than 3 decades in the business, they have branched out and now offers different RV services, including parts & service, financing, and rentals. Year by year, they gain lots of RVs such as motorhomes, tent trailers, travel trailers, hybrids, fifth wheels, and toy haulers. Currently, they are centrally located in Mitchell, Ontario, which is near an RV-friendly city, Toronto.
Fleet
Stratford RV Centre has a great selection of recreational vehicles, but only a limited number of motorhomes for rent. Their motorhome fleet is consist of Class C units, particularly Jayco Redhawk models, which provide accommodation to large groups. Rentals from them already include 200 miles daily, which is a great saving.
Vehicles
Jayco Redhawk Motorhome

There are two Jayco Redhawk motorhomes you can choose from―the 6 berth and the 8 berth. Both are 26' in length, with double slides, one positioned at the dining/ living room and the other at the rear queen bed. These RVs are great for families wanting a spacious motorhome stocked with all necessities and extras.
Insurance
Give them a call or send them an email to know about their insurance coverage and other insurance reductions.
Reputation
Stratford RV Centre is no doubt one of the recognized RV dealers in Southern Ontario. They have been in the industry for more than 3 decades, making them a well-established RV company. Though their reputation is a mix of amazing and some negative reviews, they can be a great option for mid to large sized families looking for modern, fully-equipped motorhomes. Their limited fleet of all Class C models is decently priced too.
Summary
A Southwestern Ontario favorite, Stratford RV Centre gives limited yet modern motorhomes to families and friends travelling Ontario.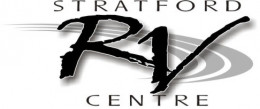 From the Agency
No word from this agency yet. Come back and see if they checked in soon.
Pros
Well-established RV
Over 3 decades of RV experience
Modern motorhomes
Cons
Suitable for big groups
Limited RV options, all Class C models
Only one depot
See who else rents RVs in the same cities
Instant Price Comparison
Just Got Questions? Want a Quote direct from the company?
Fill in this form to contact the Agency direct.
Write Your Own Review
Tell the world about your experience renting from this company
Have you experienced Stratford RV Centre?
Be the first to leave them a review and help others on their journey.