Canada
Editors Review
A luxury road trip or traditional camping awaits renters of Toronto RV Rental. This family business based in Toronto offers both vintage and modern campervans for couples and small families.
About Toronto RV Rental
Toronto RV Rental is a modest, family RV hire in Toronto that offers two completely different RV rentals―modern motorhomes and vintage campervans. Being a family-operated company, they can provide you with a more personalized rental and detailed walkthrough of the vehicle, which is lacking in most mainstream RV dealers. Their rates are competitive enough and there are no hidden costs to catch you off guard. Aside from pick up and drop off from and to their depot, airport service can be arranged.
Fleet
Their rental fleet isn't complicated at all. They offer two, relatively different units―one for those who'd prefer luxury road trip, and one for those who'd like a more laid-back experience. Both units, however, are well-maintained and well-equipped. These are clean and comfortable vehicles that drive smoothly and fit regular parking space. Further, these are great for couples and even small families up to 4.
Vehicles
2019 Hymer Aktiv Loft

Experience a luxury adventure with this deluxe Class B motorhome. The 2019 Hymer Aktiv Loft is a 21' model featuring a Dodge Promaster Chassis with a 3.6-liter V6 280hp Gasoline engine, hence excellent gas mileage. This sophisticated model is unlike most Class B units because it has a pop-up roof that makes the interior more spacious for everyone, especially for giants. Sleeping up to 4 people, you have the option to relax in the permanent rear queen bed or rooftop loft.
Westfalia

If you're eyeing for a more laid-back road trip, then this vintage VW Westfalia can take you to a classical kind of adventure but with a hint of modern day luxury. Equipped with lithium battery power and Voltstart technology, running this older campervan is much quieter and easier. The 2000 watt full sine wave inverter allows you to charge your phone and other devices as well as power all the lights. Instead of a shower and toilet, it comes with a cassette toilet.
Insurance
Each hire from Toronto RV Rental comes with up to $2 million insurance coverage. For more info about the coverage and other insurance options, shoot them an email.
Reputation
The Toronto RV Rental units are a great way to travel around Canada. As a family-owned business, renters are showered with more customized rentals as well as cheaper rates. They have two different options for two different travellers. If you want to cover as many scenic attractions as possible, then the Hymer Aktiv Loft is the best option. If you just want to slow things down, then there's the older VW Westfalia. Despite having limited reviews, they are building a nice reputation in Toronto.
Summary
Whatever your choice―be it a luxury home on wheels or chill-like camping, there's something for you at Toronto RV Rental.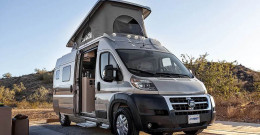 From the Agency
No word from this agency yet. Come back and see if they checked in soon.
Pros
Offers both vintage and modern campervans
Competitive rates
More personalized rentals
Cons
Only one depot
Two rental options
Limited reviews
See who else rents RVs in the same cities
Instant Price Comparison
Just Got Questions? Want a Quote direct from the company?
Fill in this form to contact the Agency direct.
Write Your Own Review
Tell the world about your experience renting from this company
Have you experienced Toronto RV Rental?
Be the first to leave them a review and help others on their journey.