Canada
Editors Review
A family business based in Kelowna, Valley RV Rentals is a more personalized RV rental with pet-friendly Class A motorhomes.
About Valley RV Rentals
Valley RV Rentals is a small family venture that is all about quality rentals of Class A motorhomes. Even if they are a small-scale business, they offer great service and even allows pet inside their units. Not only that, rentals come with free 100 km for mileage. Their rates are reasonable as they try to match any price. They have limited parking so you need to confirm with them in advance. And in picking up or dropping off the RV, you need to arrange your own transportation though.
Fleet
There are only two motorhome options for hire, both are Class A units. These RVs are suitable for small families and groups up to 6 people. The motorhomes aren't brand new but still work well on the road. Each comes with nice storage space and even bike racks. Inside, you'll appreciate the useful facilities like the shower, microwave, generator, fridge, and more. Dishes, cups, pans, and pots are included in the rental too. Just bring your linens and car seats, if needed. And since these are Class A RVs, you'll get better road views. But of course, you need to consider the vehicle size when driving and parking.
Vehicles
Tiffin Allegro
A beautiful 35' Class A, the Tiffin Allegro holds a very large living room and a spacious bedroom because of the two slides. It caters to 4 to 6 people because of the couch sleeper, dinette bed, and rear queen bed. The comfy captain's chairs are perfect for long road trips. The L-shaped kitchen area has all the essentials you need, including 3 burner stove, convection oven/ microwave, and double sink. And when it comes to driving, this unit is a breeze to maneuver because of its leveling system, cruise control, and air ride suspension.
Damon Ultra Sport
A smaller Class A but still accommodates a family of 6, the Damon Ultrasport is a nice unit for those who'd prefer a compact family motorhome. Featuring a heavy-duty transmission, this one offers the same sleeping places as the previous RV―convertible couch and dinette and queen bed. For your comfort, the queen bed is positioned at the separate bedroom at the rear area. Also, there's a separate bathroom with toilet, shower/ tub, and sink. And at the back of the 2 captain's chairs is a recliner chair.
Reputation
Valley RV Rentals may just be a small business but there's something good to expect from them. They are a family company, which means friendlier service and decent rates. But do take note that they have a limited fleet, offering only Class A motorhomes in two styles. Still, their motorhomes are more attractive because they can allow your furry friends in the RVs.
Insurance
Aside from the $200 required reservation fee, you will need to provide a $1,000 damage deposit to be charged to your credit card. For more questions about insurance options, you can contact them online.
Summary
A great family service awaits you when renting a Class A unit from Valley RV Rentals. And, you can even bring your furry friend with you!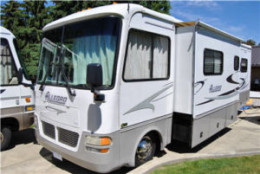 From the Agency
No word from this agency yet. Come back and see if they checked in soon.
Pros
Pet-friendly RVs
More personalized service
Nice rental inclusions
Cons
Only Class A motorhomes for rent
Not that popular
Could be older models
See who else rents RVs in the same cities
Instant Price Comparison
Just Got Questions? Want a Quote direct from the company?
Fill in this form to contact the Agency direct.
Write Your Own Review
Tell the world about your experience renting from this company
Have you experienced Valley RV Rentals?
Be the first to leave them a review and help others on their journey.