Canada
Editors Review
From motorhomes to travel trailers and motorcycles to personal watercraft, Vancouver Island RV Rentals gives you a whole lot of rental options for your next holiday adventure.
About Vancouver Island RV Rentals
A rental company in Nanaimo, Vancouver Island RV Rentals has a lot to offer―motorhomes, travel trailers, motorcycles, and PWC. This small RV rental company makes RVing easy, especially with their motorhomes. They can meet you either in Nanaimo ferry terminal or Nanaimo Airport.
Fleet
Setting aside their other rental options, let's discuss their motorhome range. Well, they only have a limited fleet, two motorhomes that cater to medium to large families. Rental includes 150km per day. All motorhomes are nicely set up for a cozy and memorable RV adventure. Each unit comes with kitchen utensils, BBQ towels, bedding, TV/DVD, camping chairs, GPS, and more.
Vehicles
Shasta Diesel

First of the motorhome fleet is this easy-to-drive Class C that sleeps up to 8 persons. The 28' Shasta Diesel is a diesel-run model, which means quite slower and noisier yet more fuel efficient. Everything you need for a pleasant RVing experience. There's a kitchen that is equipped with a cooktop, oven, microwave, fridge/freezer, and sink. You can sleep at the rear queen or cabover queen while the kids can laze around at the couch and dinette twins. Aside from the bathroom inside, you have an outdoor shower.
Slumber Queen

The Slumber Queen is a 6 berth motorhome that has three sleeping areas―the cabover queen, dinette queen, and rear couch twin. This 22' gasoline-based unit may be small but it's efficient on the road. Because of its size, it's smooth to maneuver and park. Cook your favorite meal at the fully-equipped kitchen with cooktop, fridge/ freezer, and oven, and eat under the cozy awning. You can also bathe outside because of the extra exterior shower.
Insurance
For each rental, you are required for a $10/day insurance, which is a stand-alone policy. You may provide your own coverage under your own auto insurance. The damage deposit required is $1000.
Reputation
Vancouver Island RV Rentals offers two motorhome rentals, which are suitable for medium to large families and friends. Even with only two motorhome options, these units are well-equipped with the essentials and some extras. And aside from motorhomes, they also offer trailers, PWC, and motorcycles. Their depot, which is located in Nanaimo, might not be at the capital of BC, but it's nearer to other tourist spots like the famous Tofino. Their standing as a rental company, however, hasn't been that amplified, with limited online reviews.
Summary
Offering two motorhomes for rent, Vancouver Island RV Rentals can get you to your next family adventure easily.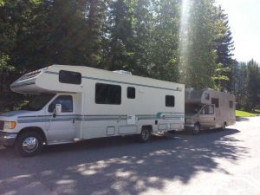 From the Agency
No word from this agency yet. Come back and see if they checked in soon.
Pros
Also offers trailers, PWC, and motorcycles
Suitable for medium to large groups
Nicely-equipped motorhomes
Cons
Only two motorhome options
One depot
Not that popular
See who else rents RVs in the same cities
Instant Price Comparison
Just Got Questions? Want a Quote direct from the company?
Fill in this form to contact the Agency direct.
Write Your Own Review
Tell the world about your experience renting from this company
Have you experienced Vancouver Island RV Rentals?
Be the first to leave them a review and help others on their journey.