Canada
Editors Review
Vantastic Rentals is a Vernon-based rental, hiring a rental fleet of well-maintained Classic Chevy and GMC campervans around Canada and the USA.
About Vantastic Rentals
Vantastic Rentals is all about laid-back camping experience around BC, Alaska, some parts of Canada, and the western USA. Their depot is located in Vernon, BC, which is 30 minutes away from the Kelowna International Airport. With over 25 years of experience, the owner provides pick up and drop off shuttle service as well as personal experiences for a smoother and efficient adventure. As noted on their website, pick up and drop off are available from May to June. Be it known though that their focus is on vintage vibes, more likely the 80s thing, so you really can't expect for fancy frills while on board.
Fleet
With a rental fleet of Classic Chevy and GMC campervans, this shows that Vantastic vans are not fancy motorhomes but rather compact, classical campervans. All their vans cater to 2 to 3 people only, so no options for large groups. These older yet automatic campervans come in different colors, mostly vivid ones. The little extras in each camper make it more attractive―like camping chairs, cleaning items, and more! Also, these professionally-maintained models have new engines for a reliable road trip.
Vehicles
Van Gogh

The Van Gogh is your go-to van stocked with swivel seats, laminated floors, and extended headroom. Because of the internal height, there's room for standing up or do stretching while onboard. This van features a brand new 350 engine, making it easy to drive even on long travels. There are heaps of storage areas inside the campervan.
Easy Rider

Suitable for 2 friends or a solo parent with 2 children, the 1981 GMC campervan offers 2 separate sleeping areas―cabover bed and double bed. Also inside is a fully-equipped kitchen that comes with 2-burner stove, cold water sink, furnace, 3-way fridge, cooking and other kitchen utensils. And for bikers, they can arm the campervan with a bike rack.
Josey Wales

This Chevrolet campervan is the sought-after van for couples wanting an outlaw adventure. A 1977 Chevy Boogie, this model is one of the most popular options because of its quite sophisticated exterior and green-and-tweed interior, together with its dark woodwork. This classic van is also geared with a well-stocked kitchen, comfy bed, entertainment features, and lots of storage.
Malakwa

The last 2 berth campervan is the brightly-colored Malakwa, a fully-equipped unit with a couch that alters into a comfy bed. The swivel front seats give an easy transition from driving to lazing around. The well-stocked kitchen is geared with a fridge, sink, and storage cabinets. The furnace keeps you warm at night while the stereo with USB provides you with the music you need all day.
Insurance
All campervan rentals include insurance as well as taxes. You just need to allocate budget for the security deposit amounting to $1000, which will be required upon vehicle pick up. The refundable deposit will cover possible insurance deductible, vehicle damage, additional mileage, and other fees. If you're a driver under 25 subject, insurance fee is at $30/day.
Reputation
Offering all compact campervans, Vantastic Rentals has been running a good reputation for many years. Even with their one depot in Vernon, the owner himself makes sure to assist in every rental, providing pick up and drop off at Kelowna International Airport. But if he can't, their branch is just 30-minutes away from the airport. Since they offer campervans of the same berth, accommodating 2 to 3 persons, all vehicles are priced the same, with the inclusion of the insurance and taxes.
Summary
Vantastic's campervans are classic, fully-equipped units in tip-top condition, which will take you to a laid-back Canadian adventure.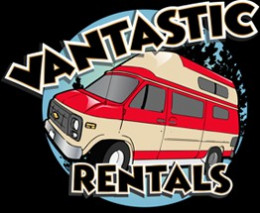 From the Agency
No word from this agency yet. Come back and see if they checked in soon.
Pros
Offers pick up and drop off
Great reputation
Over 25 years of experience
Cons
Only one depot
No options for large families
Not for fancy travellers
See who else rents RVs in the same cities
Instant Price Comparison
Just Got Questions? Want a Quote direct from the company?
Fill in this form to contact the Agency direct.
Write Your Own Review
Tell the world about your experience renting from this company
Have you experienced Vantastic Rentals?
Be the first to leave them a review and help others on their journey.