Canada
Editors Review
Supplying couples and families with a fleet of iconic campervans, Westfaliarentals has branches all over Canada as well in the USA.
About Westfaliarentals
Being in the business for over 12 years, the company now provides multiple pick-up locations in Canada and the USA―Victoria, Twassen Ferry, Vancouver Airport, Calgary Airport, and Seattle Airport. This campervan hire focuses on a particular campervan hire―classical road trip without breaking the bank. This means that you are renting a much older unit but at an affordable rate. To give you more savings, rental already includes 120 free km per day. One way rentals are available and as well as discounts for long term rental.
Fleet
Geared with a range of Volkswagen Westfalia campers, Westfaliarentals has over 35 campervans to choose from. Their campers can sleep up to 4 people in comfort and can extend up to 5 upon request. One thing to note is that they are renting out Volkswagen camper, which means vintage converted vans that are suitable for simple travellers. Still, you get all the basic comforts of home inside these traditional units, including 2 full-sized double beds, a kitchenette, cabinet space, and more! The gas mileage ranges from 18-21 miles per gallon, hence added savings for longer road trips.
Vehicles
Vanagon Camper

Vanagon campers are mostly 1984 to 1991 models that are suitable for those who prefer a more laid-back campervan experience. Highlighting its classic character, the unit comes with a cozy living/ dining area. The kitchen is furnished with a 2-burner gas stove, sink with water pump, water tank, and a 3-way refrigerator. And, there's an adjustable table that actually saves space.

Eurovan Campers

For a more modern camper with a vintage touch, there's the Eurovan. These units are easier and quieter to drive because of the updated features. Still, it has the same layout and facilities as the Vanagons. The pop-up roof not just provides a double bed but also extra interior space for stretching your arms. So, if you want a more comfortable way to tour around Canada, Eurovan is a great option for couples and small families.
Budget Campers

The Budget Campers are the perfect match for those who do not want to dig deep into their pockets. These older campers are from the Vanagon series, so you still get that hippy feeling while driving. Plus, their age has something to say about their reliability! They are seriously one of the toughest units on the fleet. And even if these are older models, each Budget Camper is equipped with the basic amenities.
Subaru Powered Campers

Last campervan style on offer is the Subaru powered camper, featuring the latest Subaru engine. These are amazing upgrades of the traditional Westy, with easy-to-use features, hence more comfortable and fun driving.
Insurance
All rental rates include insurance, with a deductible amounting to $2,000. You can reduce the deductible by paying $12 per day.
Reputation
Westfaliarentals has over 12 years of experience, offering older yet well-equipped units. Accordingly, these units are not suitable for picky travellers. But if you're travelling with families and friends who wouldn't mind a simple home on wheels, then their vintage vans can accommodate you comfortably. Even with their extensive years in the business, they are not that popular. They have plenty of campervans on offer as well as multiple pick-up locations. Westfaliarentals makes it easier for travellers to start their adventure at their preferred pick-up locations. Their main branch is located in Victoria, Vancouver Island and has other branches in Vancouver, Calgary, and Seattle.
Summary
Westfaliarentals is all about classic campervan hire with lots of rental options and easy pick-up locations. Their traditional vans are suitable for a simple family getaway.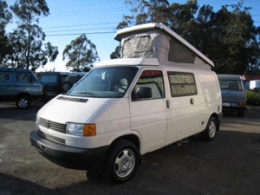 From the Agency
No word from this agency yet. Come back and see if they checked in soon.
Pros
Plenty of campervans on offer
Multiple pick-up locations
Over 12 years of experience
Affordable rates
Cons
Older units, not suitable for picky travellers
Not that popular
Cater to up to 4 people only
See who else rents RVs in the same cities
Instant Price Comparison
Just Got Questions? Want a Quote direct from the company?
Fill in this form to contact the Agency direct.
Write Your Own Review
Tell the world about your experience renting from this company
Have you experienced Westfaliarentals?
Be the first to leave them a review and help others on their journey.