Canada
Editors Review
Go on a classic adventure with WestyBC's vintage vans―Eurovan and Vanagon―that accommodate up to 4 people.
About
This small, family-run business in Vancouver, BC, WestyBC has been offering Westfalia campervan rentals since 2011. Their rates are quite competitive, with the inclusion of 120 free kilometers per day. Renting from a family-operated entity can make your holiday more fun and personalized. With their campervans, you can 'go where you want to go and stay where you want to stay'. Aside from the pick up and drop off in their depot, they can offer free pickup at Vancouver Internation Airport.
Fleet
The WestyBC range is composed of 4 berth campervans that are known for their extended interior height. This means that their units are ideal for taller travellers or those who'd prefer an extra space for stretching. They only have 2 models for rent, both of which are older yet well-maintained units. Plus, you can equip these campervans with more add-ons like portable solar shower, lawn chairs, espresso machine, DVD player, and a lot more! All these extras surely compensate for the limited fleet.
Vehicles
Vanagon

A traditional Volkswagen camper, the Vanagon easily shelters up to 4 people. With two sleeping options, both double beds, you'll not have a hard time relaxing after a fun-filled day trip. And if you want a private space, you can rent out the 3-man tent. The kitchen is well-equipped too. It has a 2-burner gas stove, 3-way refrigerator, and sink with water pump. Plus, you are given a 10.5-gallon water tank! Just like most VW models, the sliding door makes it easy to enter and exit the camper. There's even no need to go outside just to enter the living room because of the swivel front seats.
Eurovan

The Eurovan is a well-converted Winnebago that is designed for extra comfort and space. These campervans are built on a stronger engine to last on longer road adventures. Loaded with elegant appointments like a sliding door, skylight, and rotating front seats, surely you'll have an epic holiday inside this spacious unit. And if you've got a thing for prepping your own meals, then the fully-furnished kitchenette is your best friend. Aside from being user-friendly, these vans have plenty of storage space for everything you bring.
Insurance
For US and Canadian renters, you can take advantage of your auto insurance to provide you with full coverage including liability, comprehensive, and collision. Just present your insurance information upon booking so they can verify the coverage ahead of time. Otherwise, you need to avail of their insurance amounting to $15 per day, which gives you full coverage and only a $350 deductible per occurrence.
Reputation
Being a small, family-run business, WestyBC can give you a rental that is more customized to your personal needs. Targeting only couples and small families, they settle in the budget market, offering competitive rates and older campervans. With only two campervan options, your choices might be limited. And as a whole, WestyBC isn't that well-known but can be a nice choice if you want something different.
Summary
If are looking for a vintage van with a modern twist, then WestyBC's Eurovan and Vanagon are designed for a simple yet one of a kind adventure.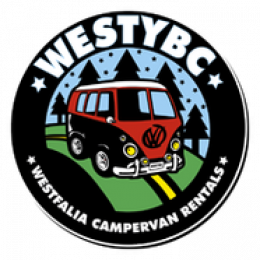 From the Agency
No word from this agency yet. Come back and see if they checked in soon.
Pros
More hands-on service
Competitive rates
Suitable for couples and small families
Cons
Two campervan options
Older units
Not apt for big groups more than 4 persons
See who else rents RVs in the same cities
Instant Price Comparison
Just Got Questions? Want a Quote direct from the company?
Fill in this form to contact the Agency direct.
Write Your Own Review
Tell the world about your experience renting from this company
Have you experienced WestyBC?
Be the first to leave them a review and help others on their journey.