If there's once state that will totally blow you away on an RV road-trip in, it must be Utah. With sights that are totally amazing and mind blowing throughout the entire state, you'll quickly see why Utah is the number one destination for renting an RV and hitting the road next vacation time.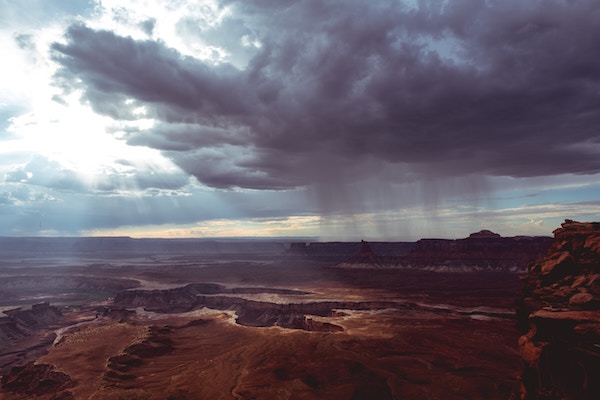 The state of Utah is a perfect place for a road trip. Its wonderful parks and natural wonders are hard to find anywhere else in the world. The variety of outdoor adventures is simply exquisite: from hiking to motorcycle riding and from mountain biking to off-road pursuits. If you are planning to rent an RV for your trip, you can start you fascinating journey at Las Vegas or Salt Lake City. We offer RV rental service in both cities.
Utah is rich in significant natural wonders and attractions. It can take weeks to see all of them. However, even with the limited time, you can still enjoy your trip. Here are top seven attractions of Utah, which you definitely should not miss:
Monument Valley
Probably, the most iconic and recognizable natural site in Utah, the Monument Valley Navajo Tribal Park has been a movie set for numerous films and commercials. Large amounts of travelers come here annually to see the famous red mesas and stone pinnacles, rising above the orange desert floor.
Take the popular Valley Drive, a 17-mile one-way dirt road, which runs between the buttes and offers the most outstanding views. You can stop all along the road for great pictures and unforgettable panoramas. And if you don't have the time for a road ride, go to the Monument Valley Visitor Center, where you will find the best viewpoint of the Valley.
Dead Horse Point State Park
The park has got its name due to its use as a natural corral in the 19th century. Today, it's a beautiful place with wonderful overview of the Canyonlands National Park. Standing on a cliff 2000 feet above the Colorado River, you can enjoy the breathtaking panorama. There are over 16 miles of hiking trails in the park, from the easiest to the most challenging one. And all of them offer amazing views.
Dead Horse Point State Park has been a filming set for the final scene of "Thelma and Louise" movie. It is considered one of the most picturesque places in Utah. And it is located in the eastern part of the state, just outside the city of Moab. So, if you are planning an RV rental in Salt Lake City, you should definitely visit the place!
Bryce Canyon National Park
Situated in the southwestern part of Utah, Bryce Canyon is a must-visit destination, if you are up for an RV rental in Las Vegas. Actually, it's not a canyon, but rather a collection of huge natural amphitheaters, situated alongside the Paunsaugunt Plateau. The park itself is much smaller, than Zion National Park, situated nearby. However, the panorama of red, orange and white rocks dominating the landscape is truly spectacular.
Take a scenic drive, which runs through the park all along the canyon and offers the most breathtaking views. Or take one of the numerous hiking trails and explore the park by foot. Keep in mind, though, that the temperatures can be rather low here, even in summer. So, do not forget warm clothes!
Zion Natural Park
Situated not far from Bryce Canyon and just a three-hour drive away from Las Vegas, Zion National Park is another place you can't miss if you rent an RV in Las Vegas. The main feature of the park is a 15-mile-long and 800-meter-deep Zion Canyon. Of course, the park also includes mountains, mesas, rivers, monoliths, and natural arches. And the diversity of flora and fauna is simply exquisite, due to the park's unique geography and multiple life zones. 289 species of birds, 75 species of mammals, and 32 species of reptiles can be found here.
The Zion Canyon Scenic Drive will lead you through the valley floor and you can stop at any of the major points for spectacular views and fascinating pictures. The Zion-Mount Carmel Highway is another must-drive of the park. It will take you high above the valley for the most breathtaking panorama.
Arches National Park
Situated just 6 kilometers away from Moab, Arches National Park is another must-visit if you rent an RV in Salt Lake City. Its most famous feature is the collection of over 2000 natural sandstone arches. The most widely known one is Delicate Arch. It is also one of the most photographed. Other popular attractions include Fiery Furnace, Balanced Rock, Broken Arch, Double Arch, and Sandstone Arch.
The park offers numerous walking trails, as well as multiple drives. Most top sites are accessible by an RV. And of course, you can stop at multiple viewing points for great pictures and scenic views.
Canyonlands National Park
Not far from the Arches National Park, there is another place, well worth a visit. Known for its colorful landscape, numerous canyons, mesas and buttes, the park is divided into three parts, each having its own character. The most popular one is Island in the Sky, which provides breathtaking views of the canyons laying beneath and beautiful snow-covered mountains beyond the horizon. Other two are less popular and more remote. But if you have time, don't hesitate visiting them as well.
Canyonlands National Park is often called "Utah's Grand Canyon, but without crowds". So, if your travel plans include an RV rental in Salt Lake City, we definitely recommend coming here.
Natural Bridges National Monument
If you drive south from the Canyonlands National Park, pay attention to Natural Bridges National Monument. Although situated a bit out of the way, it's still worth a stop. The main attractions of the place are the three natural bridge formations: Kachina, Owachomo, and Sisapu. The latter is the largest and the most impressive one. You can reach it by a 1.2-mile hiking trail. And if you have time, you should also visit the Horsecollar Ruins, the 700-year-old remains of Native American buildings.
Utah is a perfect place for a road trip on a rented RV. Doesn't matter if you rent your RV in Las Vegas or Salt Lake City, you will find plenty of natural wonders and attractions of Utah within the easy reach. In this article, we mentioned seven of the most popular ones, but there are much and much more.
Don't hesitate, book you RV in Salt Lake City or in Las Vegas now. And your trip around Utah will become an experience you won't soon forget!