United States
Editors Review
Since 1984, Utah RV Rentals has been in the rental industry to hire their fleet of motorhomes, travel trailers and tent trailers at mid-ranged market.
About Utah RV Rentals
With more than 30 years experience, this family-owned company has grown into an extensive rental entity with a great selection of recreational vehicles in different size and style. They rent out motorhomes, travel trailers and tent trailers. Accordingly, they offer delivery and pick-up of their latest models equipped with essentials and some extras. The company may be in the industry for quite a while now, however, their status isn't that solid.
Fleet
Each of the motorhome rental comes with 100 free miles per day and 2 free hours of generator use per day. These motorhomes are mostly new models in great condition. Though these are relatively reliable because of the newer features, the units do not come with kitchen or linen supplies. And, the company could not guarantee a TV, and if the unit does have a TV, they still cannot guarantee that it will work. Such a disappointment, especially if you are travelling with some kiddos. The company reiterates that these RVs are not allowed to go to Burningman.
Vehicles
Class A
Georgetown
The Class A Georgetown models are classified into two― the 31B3 and the 351. Both are 7 to 9 berth motorhomes equipped with booth dinette, sofa sleeper, queen rear bed bunk beds, full bathroom and well-equipped kitchen. The 31B3 uniquely features a full wall slide on one side while the 351 comes with two slide-outs. If you want a more spacious ride, then the 351 is the best option.
Georgetown 351
The Georgetown X is quite big considering it is a 31'11" RV than can sleep up 6 people only. Plus, it comes with 2 slide-outs to make it more spacious. The sleeping places inside are located in the rear queen bed and both dinette and sofa bed.
Thor Ace
A 31'6" motorhome with a full-wall slide, the Thor Ace model may not be the largest in terms of exterior length but it has the most number of sleeping capacity up to 10. The bunks at the side slide-out have its own window for a private and panoramic viewing. The dream dinette and sofa both convert into double beds. Also in the living area is a nice drop-down overhead bunk.
Class C
Sunseeker
The Sunseeker model has many options that vary in size and layout. These Class C motorhomes are relatively popular because of its compact dimensions and versatile sleeping options. Ranging from 23' to 32', these Sunseekers can accommodate couples, small families and even large groups. Most of the units have slide-outs to give a more spacious ambiance. Depending on the unit rented, you may have those with bunks, those with larger panoramic windows or even both. All these RVs are furnished with full kitchen, full bathroom and different sleeping areas.
Four Winds

Aside from Sunseekers, the Four Winds are also in full array with different options to choose from. For smaller families, there's the 24' RV with sleeping capacity up to 6. These compact RVs feature either bedroom slide or a full wall slide-out. Because of the limited size, these units do not have a sofa sleeper inside. On the other hand, there other bigger Four Winds at 30' and 32'. These 8- 10 berth motorhomes are fitting for larger groups because of the bigger interior layout with bunks, sofa sleeper and bedroom closets.
Leprechaun

There's only one Leprechaun layout for the Class C category― a 32' motorhome with double slides. Both kitchen and bathroom are located at the center part of the coach. The dinette and sofa bed are faced adjacent to each other. The dining area is also a nice entertainment quarters with a TV. Aside from that, there are optional entertainment centers at the cab-over area and outside. However, as previously stated, the TVs may or may not work.
Insurance
The company requires a security deposit of $1,000.00 via credit card authorization at the time of checkout. This amount also corresponds for the deductible per occurrence. And 48 hours prior to departure, you must be able to present a proof of collision, liability, and comprehensive insurance. You can choose your own coverage through an insurance binder or purchase one from the company at $27/day for all the motor homes and $30 day for diesel pushers.
Reputation
Utah RV Rentals is quite popular but unfortunately this long running rental entity has a mixed reputation. This family owned business could either be good or a total flop. Their rates aren't that pricey, which is a good thing. However, it is their inconsistent quality service that is a question. They only have one depot to shelter their extensive rental selection of motorhomes, travel trailers and tent trailers. Though they offer latest units, this isn't an assurance that you will not get a questionably older model.
Summary
Utah RV Rentals could be a yay or nay, and it's better not to expect for a seamlessly perfect road trip to avoid huge disappointment.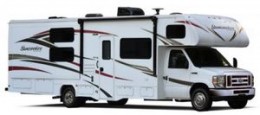 From the Agency
No word from this agency yet. Come back and see if they checked in soon.
Pros
More than 30 years in the rental industry
Latest motorhomes on fleet
Cons
Many negative feedback
Only one depot
Lack of maintenance
See who else rents RVs in the same cities
Instant Price Comparison
Just Got Questions? Want a Quote direct from the company?
Fill in this form to contact the Agency direct.
Write Your Own Review
Tell the world about your experience renting from this company
Have you experienced Utah RV Rentals?
Be the first to leave them a review and help others on their journey.