New Zealand
Editors Review
Self-contained campervans, new fitted-out models, and flexible hours―these are some special features that make Next Campers a standout campervan rental in Christchurch.
About Next Campers
Offering modern, self-contained campervans, Next Campers is unlike most rental companies in Christchurch. Instead of having a fixed schedule, it comes with flexible operating hours to accommodate requests of travellers like you. They have an all-inclusive package that already includes airport transfers and all other exciting extras like kitchen equipment, camping gears, outdoor showers, and more! With a self-containment sticker in each unit, you can roam around and freedom camp around NZ with ease! But of course, make sure you know the freedom camping rules per NZ district ahead of time.
Fleet
Their fleet revolves around 2-3 berth campervans, either for couples or small families. These older vehicles with 2019 custom-made interiors certainly look like brand new models! Since these are tagged as self-contained campervans, each unit has everything you need. It comes with a well-equipped kitchen, spacious dining area, and cozy beds. With the size of the units, these are super practical and easy to park.
Vehicles
Next ONE

Suitable for 2 adults and 1 child, the Next One is the perfect unit for small, adventurous families. This 2008- 2011 Toyota HiAce with 2019 interiors is such a breeze to drive with its automatic transmission and power steering. Inside, the dining area has two benches and one table, which easily alter into a spacious queen-sized bed. Underneath the living/ sleeping quarters are storage spaces. There's also a nice, little kitchen at the front area with all the essentials like a double gas cooker, fridge, pans, and such. The high-roof is also worth the mention as it gives you enough space to move around comfortably.
Next BREEZE

For 2 adults wanting extra space, there's the Next BREEZE. This 2013, automatic Mazda Bongo is a perfect treat for couples as it features all comforts of home―fully-furnished kitchen, rear lounge, double bed, and storage areas. There are three benches and a table in the middle, which converts into a double bed. Storage spaces are provided underneath those benches. The kitchen, on the other hand, is positioned in the rear area.
Insurance
The standard excess for Next campervans is $2, 500 but can be reduced if you avail one of their insurance excess options. Option 1 at $25/ day reduces the excess to $1, 500 while Option 2 at $35/ day reduces the excess to $0. These insurance options are capped at 50 days max.
Reputation
Next Campers may only have a limited fleet of campervans but stand out in terms of service. Surely, they go the extra mile to make every rental more fun and convenient. One thing that sets them apart from other rental companies is their flexible hours, which means they can cater to your needs at any time of the day. Plus, their campervans look like brand new models! So, you really can't say these are 2008- 2013 units. But on the downside, their services are not meant for large groups―only 2 to 3 persons.
Summary
Next Camper is a great option for two to three persons who want a simple yet cosy home on wheels. With their self-contained campervans, you can go freedom camping around NZ with ease.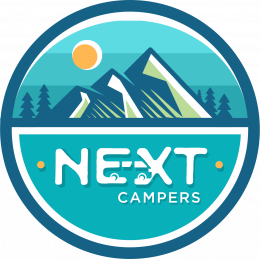 From the Agency
Next Campers is a family owned campervan rental company based in Christchurch, New Zealand. Rent your Next Campervan and hit the road with a fully equipped kitchen, kitchen sink, comfortable dining area and spacious beds. Smart design paired with comfort and convenient facilities - built with a lot of ♥.
Pros
Self-contained, fully-furnished units
Recently, custom-made models
Flexible operating hours
Cons
Accommodate 2 to 3 persons
One depot
No option for units with shower/ toilet
See who else rents Campervans in the same cities
Instant Price Comparison
Just Got Questions? Want a Quote direct from the company?
Fill in this form to contact the Agency direct.
Write Your Own Review
Tell the world about your experience renting from this company
Have you experienced Next Campers?
Be the first to leave them a review and help others on their journey.